20 January 2013 | International Solidarity Movement, Bab al-Karama, Occupied Palestine
The road to Bab al-Karama, the new tent neighborhood created by Palestinians on land that will be separated from the village of Beit Iksa by the Apartheid wall, exposes a landscape of Apartheid.
To reach Bab al-Karama from Occupied Ramallah one needs to take the "Palestinian only" road that runs under the "Israeli only" 443 Highway between Ramallah and Beir Naballah.
Beir Naballah used to be a suburb of Jerusalem. Affluent Jerusalemites built their homes in Beir Naballah to escape from the housing crisis imposed on Palestinians by Jerusalem's municipality housing polices. It sits on a road that connected the villages in the area with Jerusalem and continued on to Latrun. Now Beir Naballah is completely surrounded by an Israeli wall. The old road was widened and transformed into an Israeli highway called 443. The highway now connects Jerusalem to Tel Aviv and the Palestinian residents of the area are barred form using it. The Jerusalemite residents were forced to abandon their homes and many businesses dependent on clientele from Jerusalem have closed.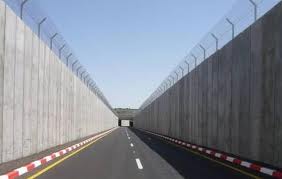 We exit Beir Naballah through a second tunnel that connects the Beir Naballah enclave to another enclave where 8 Palestinian villages are also isolated by Israeli walls. This tunnel is even more surreal than the first. Not only does it run under two Israeli only roads but as well as under the Apartheid wall and through the Givaat Zeev settlement bloc. High cement walls with razor wire on top of them hug the sides of the road.
We drive in Biddu and drive through the villages that had been since their creation connected to Al Quds but are now cut off from it and artificially connected to Ramallah. True to the Orwellian tradition of Israel's military language they call the Palestinian network of roads they have built under their highways "fabric of life roads". The landscape is beautiful and almost idyllic. Goats grazing on green hills, old stone houses…, but this ideal setting is surrounded by walls, gates and settlements.
The last village we reach, the one closest to Jerusalem is Beit Iksa. But to enter it we need to pass a military checkpoint. At the edge of the village we finally reach Bab al-Karama overlooking a network of Israeli highways and the city of Jerusalem. In the valley right below Bab al-Karama one can see two tunnels that will be connected by a bridge on which a fast track train connecting Jerusalem to Tel Aviv will run. The train will run on the village's land but not only will the villagers be barred from accessing it, Israel's Apartheid wall will be built between the village and the train separating the villagers from over 4500 dunams (60%) of their agricultural land. More than 1300 dunams had already been taken in the 70s for the construction of  Ramot Allon settlement.