Update: The Israeli occupation forces invaded Bab AlShams village in the middle of the night and arrested all it's residents and removed them by force injuring six Palestinians. The Residents of Bab ALShams were forced on an ISraeli police bus and driven through Jerusalem/Al Quds, from which as Palestinians they are banned by Israel, and dropped off at the Qalandia military checkpoint near Ramallah.
12 January 2013 | PSCC, Bab Alshams, Occupied Palestine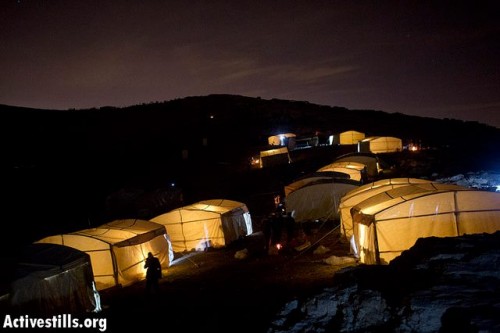 Israeli army and police have been laying siege to the newly founded Palestinian village of Bab Alshams since earlier today, blocking all roads leading to. The area has been declared a closed military zone. The village was inaugurated yesterday on Palestinian land, East of Jerusalem, in an area referred to by Israel as E1, and designated for the expansion of Ma'ale Edomim settlement.
Despite the siege, roughly a hundred supporters from across Palestine managed to reach the village, trekking through rocky terrain. Earlier today, Abdallah Abu Rahmah of the Popular Struggle Coordination Committee said, "Israel has been defying international law for decades by building illegal settlements on stolen land and demolishing Palestinian homes. We are here to say that Israeli impunity must end. We have the right to build and live on our own land".
 This morning the residents of the village where notified by Israeli police that they will be evicted despite an injunction issued by the Israeli High Court, prohibiting demolition of the village for six days. The officers informed residents that the injunction only forbids the removal of village structures, not their inhabitants. Despite this statement, Israeli government has appealed to the court to revoke the injunction. As growing numbers of Israeli forces amass in the vicinity of the village, seemingly preparing to carry out an eviction, the residents of Bab Alshams stand firm in their resolution to hold on to the land.
Meanwhile, Israeli soldiers prevented Palestinian legislators Hannan Ashrawi, Saeb Arekat and Ahmed Majdalani from reaching the village and confiscated Majdalani's VIP card.
Famed Lebanese writer, Elias Khury, author of the epic novel Bab Alshams after which the village is named, phoned the residents earlier today to express his support. "You have revived Bab Alshams", he said, "I wish I were there with you."