17 December 2012 | International Solidarity Movement, Madama, Occupied Palestine
Israeli settlers, then the Israeli army violently attacked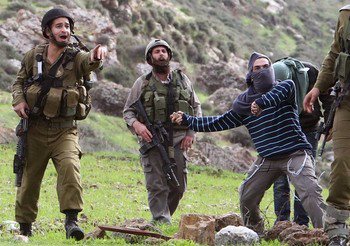 the village of Madama, near Nablus, West Bank. Three people were shot with live ammunition and one person was taken by Israeli settlers.
It  all started at 10.30 this morning when two brothers and their sister were attacked by a group of Israeli settlers from the illegal settlement of Yitzhar. The three Palestinians were with sheep on the hills above Madama when the settlers attacked. Two were shot and have been taken to Rafidia Hospital in Nablus. One of the brothers was hit in the head by settlers, who then took him into the settlement where hebelieve was arrested by Israeli Military. All three were aged between 20 and 30 years old.
Youth from the village went to the aid of the three siblings, and were met by the Israeli Army. Over the course of approximately five hours, soldiers fired live ammunition, tear gas, and stun grenades at Palestinian youth armed only with stones. A further two Palestinians were seriously injured in the clash, one shot in the leg with live ammunition and another was hit by a tear gas canister. The army also arrested one Palestinian.
A Red Crescent medic at the scene said since the successful UN state bid he had seen a dramatic rise in wounds resulting from the fire of live ammunition.
A Palestinian from Madama who was involved in the clashes today said that settlers have been attacking the village and their agriculture for a long time. Olive trees are regularly burnt or destroyed, and farmers have often been injured. The village lies in a valley between the Yitzhar and Bracha settlements, and their land runs up to the fences of these settlements.
Photos from JAAFAR ASHTIYEH/AFP/Getty Images 2012 AFP