30 November 2012 | International Solidarity Movement,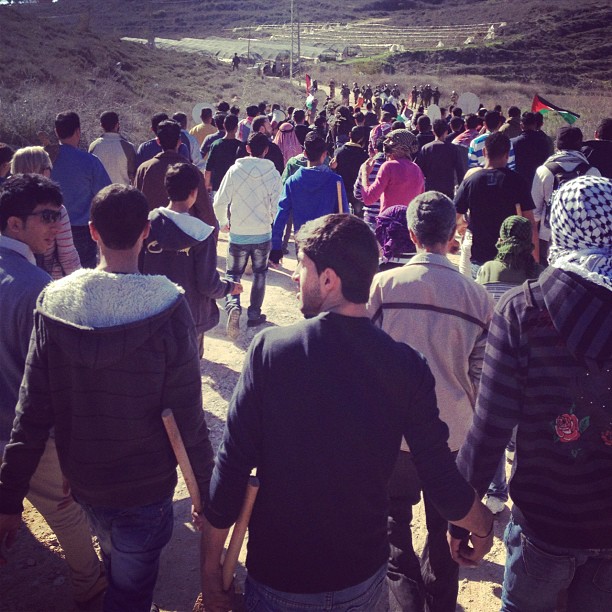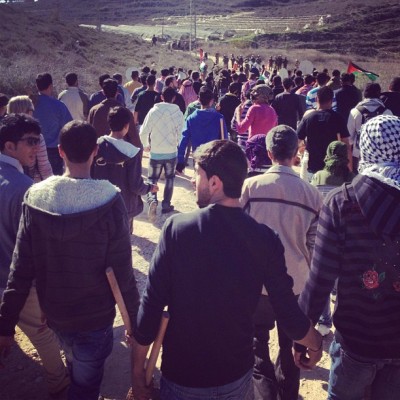 West Bank, Occupied Palestine

Many injured as Israeli Forces fire rubber-coated steel bullets and tear gas canisters directly into a crowd from close range during a peaceful attempt to remove an illegal road block.
On approaching the turn of the road in close vicinity to the settlement that is currently blocked the demonstration was halted and crushed by twenty or so Israeli soldiers simultaneously firing rubber-coated steel bullets and tear gas canisters directly into the crowd. A number of protesters required medical attention following the tear gas attack, including a young child who was unconscious for a short time and another protester who had to be rushed to hospital after the tear gas triggered a serious asthma attack. Two international human rights activists were hit by rubber-coated steel bullets, and one activist's arm will be incapacitated for some time.
Only hours after the successful Palestinian UN non-member state bid, today's action started well spirited, with large groups of people in the centre of the village listening to speeches, enjoying music, and breaking into chants. By the time the protest was ready to leave, similar to previous actions to unblock the road, more than 200 people from Qaryut had gathered. The speakers briefed the crowd that the protest would be a strictly non-violent action and set off towards the road carrying olive branches, placards bearing slogans, and tools for dismantling the road block.
The village of Qaryut, located in Area C in the West Bank is being squeezed out by the Israeli settlements of Shilo and Eli. As a result, Palestinian farm land has and continues to be confiscated, access is restricted, property damaged, and members of the community are regularly harassed violently. Since the first Intifada, the village's once-main road towards Highway 60 has been blocked, heavily infringing on the daily lives of commuting workers and students attending schools and universities in either of those cities. Blocking off the direct access to Route 60 means that travel times have been increased by at least 30 minutes going to or from Ramallah or Nablus.
The road block has been the source of countless protests and has been successfully removed several times. In 2009, ISM joined around 200 members of the community who marched directly to the road block and successfully removed it despite an Israeli army presence, which was similar to today's. Similarly, in February 2012, the roadblock was partially demolished.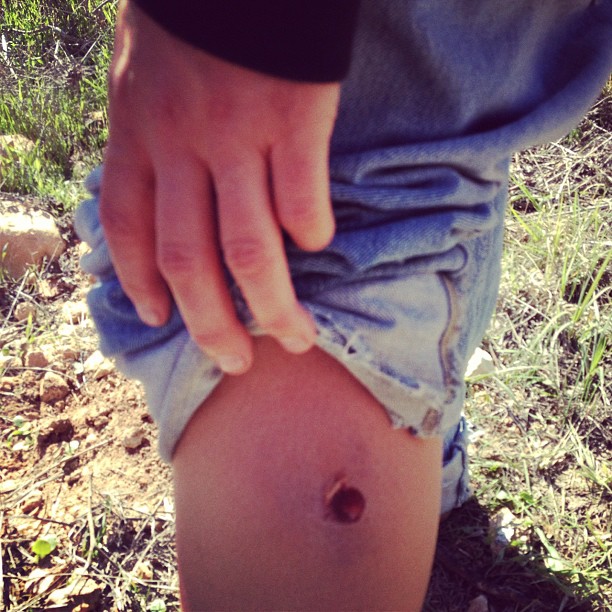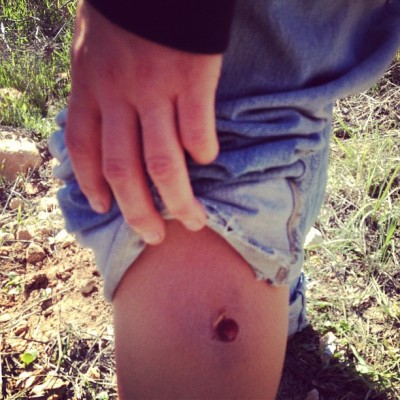 Today's violent response to this peaceful protest clearly shows continuity from the Israeli Occupation Forces. Is this what the new Palestinian state will continue to look like?