6/9/2023 Nabi Salah, Occupied Palestine,
In the Aftermath of the Killing of infant Mohammad Tamimi the occupying forces invaded the sleeping village of Nabi Saleh again early Friday morning and aressted Wissam Tamimi, who had just turned seventeen, and twenty-two-year-old Mohammed Fadel Tamimi, from their homes. Both suffer from severe head injuries. The Israeli military blew up the doors of the family homes of two youths who are suffering from head injuries after being shot in the head by the occupying forces.  Wissam who is still a highschool student and Mohammed who is now twenty two but still suffers from the sever injuries he sustained when he was shot in the head as a child, were both arrested from their homes by the military this morning.
Wissam Tamimi was shot last week on June 1, 2023, the same day infant Mohammed Tamimi was also shot in the head and fatally wounded. Wissam, who was still sixteen at the time, was standing behind his uncle Bilal Tamimi, who was filming the military's attack on their village. Bilal was wearing a vest and a helmet marked "PRESS." Wissam was shot with a projectile that had a condensed hardened foam tip, which fractured his skull and caused a concussion. Bilal filmed the entire incident and aired it live on Facebook. In the footage, Wissam's injury can be seen starting at minute 22. Bilal continued to film and broadcast until he himself was wounded, with his hand fractured by the same kind of projectile that wounded Wissam.
Wissam was released from the hospital on June 5, a day before his 17th birthday. However, he still needs to return to the hospital for further evaluation. Due to his injuries, he was unable to complete his final exams, which took place this week. This morning, the occupying forces blew up the door of his house and arrested him from his home.
At the same time, Israeli forces stormed the house of Muhammad Fadel Tamimi, 22, and arrested him after blowing up the door. Muhammad has been repeatedly arrested since the age of 13, enduring months of imprisonment. He has survived being shot in the head twice, once in 20017 at the age of fifteen and then again last year. Like Wissam, he has been targeted, arrested, and intimidated while suffering from a fractured skull. Muhammad suffered severe damage and lost almost a third of his skull. He has undergone a series of complex reconstructive surgeries and had customized skull implants inserted. He still relies on medication to prevent seizures.
In a media statement, South African MP Nkosi ZMD Mandela demanded the immediate release of Muhammad Fadel Tamimi and his cousin Wissam. This follows a statment in which, MP Mandela called on the International Criminal Court to issue an arrest warrant against Bibi Netanyahu.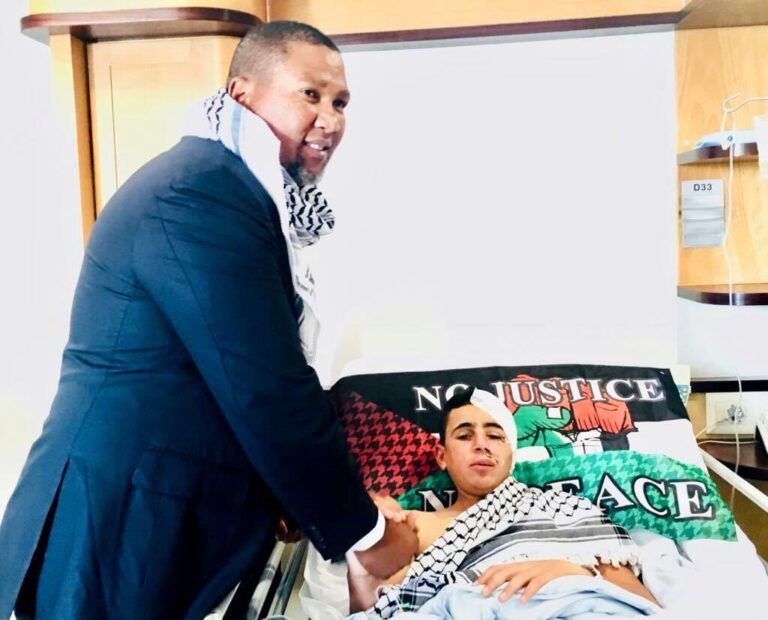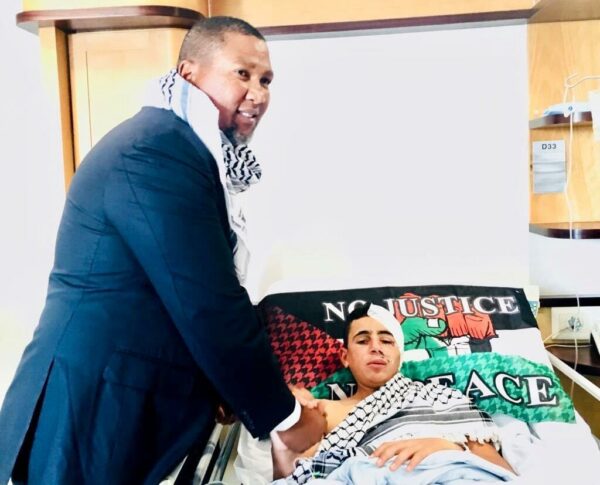 Manal Tamimi, a human rights defender from Nabi Salah, expressed the following: "On Tuesday, Wissam was supposed to celebrate his seventeenth birthday, a milestone that marks the transition from adolescence to young adulthood. However, instead of celebrating, he spent the day recovering from his injury and participating in the funeral of his relative Mohammad. And now, he has to endure imprisonment while still in pain. The village is going through difficult days with the arrest of Muhammad and Wissam, the death of Muhammad, and the injury of six members of our family. We call upon the international community to ensure the protection of this small village, which has a population of fewer than 650 people and has already lost six members of our family and community to occupation-related incidents in the last decade."