August 11 | International Solidarity Movement | Hebron, occupied Palestine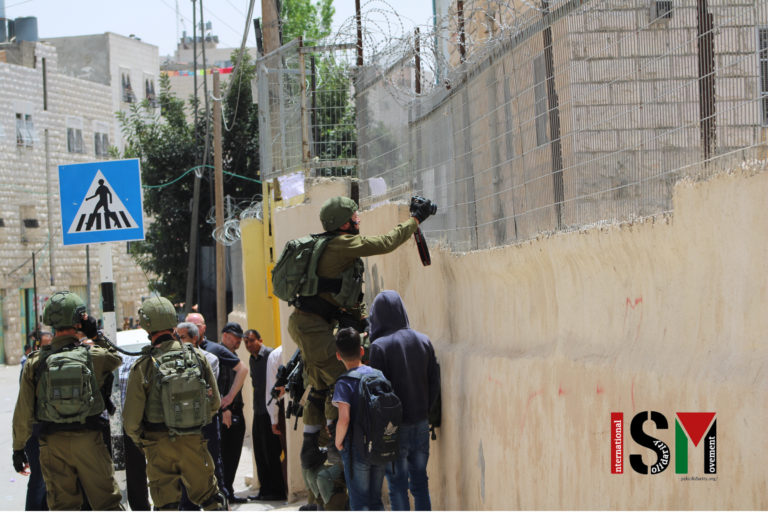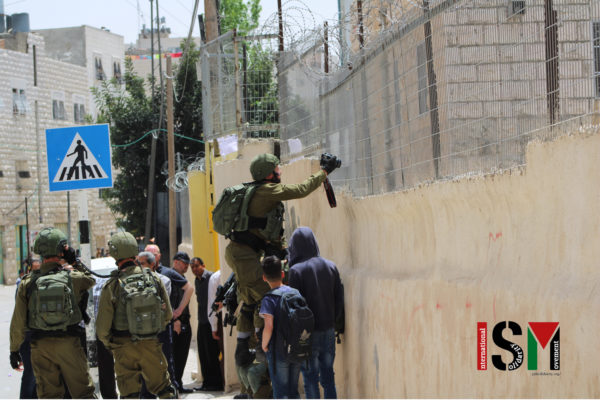 Whilst continuing my work with ISM this year, I spent four weeks working at the Hebron/al-Khalil office of Defence for Children International focussing on the way that the occupation has compromised the access to education in the West Bank, East Jerusalem, and Gaza.
It is believed that Abraham of the Bible/Ibrahim of the Quran is buried in this city. Thus, Hebron is entwined with the relgions of Islam, Christianity and Judaism. The tombs of Sarah, Isaac, Rebecca, Jacon and Leah, who are deeply revered in all religions are also believed to be buried there. Due to its religious significance, Hebron has become a stronghold for Jewish extremists and is the only city in the occupied West Bank with internal illegal Jewish settlements. Red-roofed have been built in and around the Old City, which traditionally served as the commercial centre for the entire southern West Bank, on private Palestinian land. Hebron's fundamentalist settlers are united in their belief that the whole of Palestine is Jewish by divine right. They are united in their objective of expanding Israel through establishing settlements. These are illegal according to Article 49 of the Fourth Geneva Convention, which states that, 'the Occupying Power shall not deport or transfer parts of its own civilian population into the territory it occupies'. These settlers are united in their wish to expel Palestinians by demolishing their homes. Article 53 provides that 'any destruction by the Occupying Power of real or personal property belonging individually or collectively to private persons… is prohibited, except where such destruction is rendered absolutely necessary by military operations.' Hebron is a stark symbol of how Palestinians are affected by the creeping policies of Israeli occupation. 
Freedom of movement does not exist in this city that has 59 checkpoints, sporadic and endless barriers, closures, military zones and Jewish-only streets. A policy of separation is in place between Palestinians and Jewish settlers. Hebron is emblematic of the structural inequality of a land where one ethnic group lives under oppressive military rule, and another under democratic, civilian authority. Shuhada Street is one of the most stark examples of this apatheid system in Hebron. It was once among the busiest streets in this ancient city. In 1994, the Israeli Occupation Forces (IOF) welded shut the street-facing doors of all the shops and the homes of the merchants who typically lived upstairs. By the time of the Second Intifada in 2000, no Palestinian was permitted to set foot on the once teeming market street. What compelled the IOF to close Shuhada Street was a tragedy that took place in 1994. Unarmed Palestinians at the nearby Ibrahimi Mosque were massacred as they prayed. This mass murder was carried out by Baruch Goldstein, an American-born Jewish zealot with Israeli military training and an assault rifle, who stopped firing only when he was killed by survivors of his attack. Shuhada Street, and the vibrant urban life it once sustained and symbolised, can be added to the list of Goldstein's victims. Today, Goldstein is memorialised in his settlement of Kiryat Arba, where his shrine is revered. The few Palestinians who remain living on Shuhada Street have been barred from the street where they live. If they want to enter their homes, they must do so through back doors, which in many cases involves clambering over rooftops. Their homes are often vandalised; their water tanks are often poisoned. Continuing to live there peacefully is the ultimate form of nonviolent resistance. 
In 2018, the UN documented 111 different cases of interference to education in the West Bank affecting more than 19,000 children. Movement restrictions such as the checkpoints and the apartheid wall limit access to education as the army or border police are likely to conduct ID checks, body searches, bag checks, and restrict children and teachers' ability to get to school. Education is disrupted by Israeli Occupation Forces lobbing stun grenades, firing tear gas, rubber-coated steel bullets, and live ammunition into schools. In less than a month (between the 4th and 27th of November 2018), Christian Peacemaking Team Palestine documented 228 rounds of tear gas canisters and 51 rounds of sound grenades fired by the Israeli military when Palestinian children were leaving school. As well as their safe passage being restricted by the military, Palestinian school children's access to education is also at risk from settler violence. A particularly malicious attack by 12 masked settlers in the South Hebron Hills against a group of children and international volunteers in 2004 precipitated implementation of a military escort. Lax execution of the military escort still leaves children vulnerable to harassment, intimidation and violence. The negative psychosocial impact of the occupation on the children affect their well-being, performance and completion rates. In one workshop, we collected data on how the students felt when they were at school. The overwhelming response was 'scared'. It is not just the children who are endangered but the school buildings themselves. The shortage of physical infrastructure because of building restrictions and demolition orders often render schools unusable. Moreover, access to education is undermined by the unrelenting detention of children. 
More than half of the children arrested by Israeli forces whose cases DCIP documented reported experiencing verbal abuse, threats, humiliation or intimidation. The vast majority, over 75 percent, said they were physically abused during the course of their detention. While under pre-trial detention, Israeli forces placed 22 children in isolation for a period of 48 hours or more. The longest period of isolation of a child that DCIP documented in 2018 was 30 days. Since 1967, Israel has operated two separate legal systems in the same territory. In the occupied West Bank, Jewish settlers are subject to the civilian and criminal legal system whereas Palestinians live under military law. No Israeli child comes into contact with the military courts. Israel has the dubious distinction of being the only country in the world that systematically prosecutes approximately 700 children each year in military courts lacking fundamental fair trial rights. So far, in 2019, there have been 210 child 'security' detainees, 14 of whom were or are currently subject to solitary confinement.  
Palestinian children's right to life is consistently undermined by the occupation. In 2018, more than one child was killed per week. At the bitter close of 52 weeks, 57 Palestinian children had been martyred by Israeli forces. So far in 2019, there have been 19 child fatalities. Abdul Rahman Shteiwi, 10, is currently fighting for his life after having been shot in the head by a sniper in Kafr Qadum while he was playing at the entrance of a home, posing no danger to anybody. Israel has denied using any live ammunition despite doctors finding an expanding live bullet that had exploded into more than 100 fragments after it lodged in his head. 
Military fixtures such as checkpoints and watchtowers in the West Bank and the heavily surveilled 'buffer zone' along the border of Gaza represent significant risks of death, injury and arrest to children who live or pass near them frequently. Since 2014, DCIP documentation and analysis show that Israeli forces have increasingly targetted Palestinian children with intentional lethal force. Under international law, lethal force such as live ammunition may only be used as a last resort and when a direct threat to life or of serious injury exists. The latest child fatality occurred when occupation forces opened fire against 15-year-old Abdallah Ghaith near a Bethlehem checkpoint. Abdallah and his cousin were attempting to get over Israel's apartheid wall to reach East Jerusalem for the last Friday prayers of Ramadan. He was posing no imminent threat. They killed him with a bullet in his chest that penetrated his heart. This killing is just the latest in an ever-lengthening list of child fatalities at the hands of the Israeli forces which the state has failed to fully and impartially investigate. On July 16, Tariq Zebania, a 7-year-old Palestinian child was riding his bicycle near Adhoura settlement in Hebron. He was struck by a car driven by a Jewish settler who headed into the settlement after hitting the boy. Eyewitnesses called the Israeli security forces. Tariq was pronounced dead upon reaching the hospital. No efforts were made by the Israeli authorities to apprehend the driver who killed the boy. The people responsible for these unlawful and deliberate killings of children should be prosecuted.