On September 1st, UK Lawyers for Israel is hosting a talk by Regavim, a pro-settler NGO with charitable status, pivotal in speeding up demolitions of Palestinian homes across the West Bank and displacement of Bedouin villages in the Negev.
What is Regavim? 
Regavim, 'dedicated to the preservation of Israel's land', petitions courts to demolish homes and infrastructure in Palestinian communities. The NGO uses loopholes to ensure that only Palestinian structures, and not illegal settler outposts, are demolished and dismantled, leaving entire communities without proper roads, houses, or even water systems. Regavim has never filed a petition against an illegal Jewish settlement built without a permit, revealing that their goal is not to ensure Israel's laws are upheld but to displace Palestinian communities.
Founded as a legally-oriented NGO to counter grassroot organisations fighting for the rights of Palestinians in the West Bank, Regavim has received a surge of state funding in recent years, reaching 2,1 million shekels in 2016. It also receives donations through the US charity One Israeli Fund which monetarily supports illegal settlements in the West Bank. Demolitions have more than doubled this year due to Regavim's actions, doing the work of the Israeli Civil Administration and speeding demolition orders through.
Most recently, Regavim's work has included lobbying EU to cease funding for the Union of Agricultural Work Committees which supports Palestinian farmers left vulnerable under occupation.
Stand against Regavim: 
Palestinian grassroots groups in areas affected by Regavim are calling on Solidarity Groups in London to protest the appalling actions the NGO wrecks on their communities. Show your support for communities under constant threat of demolition and hear their testimonies at the demonstration in north west London at 5:30pm. The exact location will be released a day prior. Check the Facebook event page below for updates.
FB event: https://www.facebook.com/events/384144279174639/
Testimonies from Palestinian activists fighting Israeli demolitions: 
Ali Awad, (pictured below) the Field Coordinator of Palestinian grassroots group Youth of Sumud based in the South Hebron Hills, says:
'Regavim receives these international donations and now they are able to employ workers on the ground to spy on these Palestinian communities. All of the South Hebron Hills now see Regavim workers when they graze their goats and sheep. When they go out to plant their fields Regavim is there. When they go to harvest their olives, Regavim is flying their drones. The people are more scared of Regavim then they are the settlers. Because before maybe the settlers throw stones or harass us. But now with Regavim, because they have the financial resources, instead of having a sheep killed by the settlers, now our whole animal barns are destroyed. Instead of the settlers breaking a few of our olive trees, now Regavim files a petition to take the whole olive grove. Those who are really concerned about Palestinian rights and peace will work to stop the flow of money to Regavim and stand in solidarity with us.'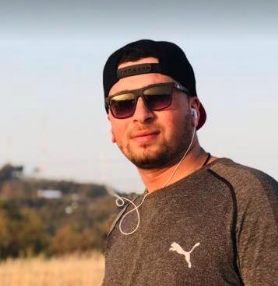 Nasser Nawaja, (pictured below) Fieldworker for B'Tselem and resident of Susiyah, says:
'More than 450 people in the village of Susiyah, including children, women and elderly people, are facing imminent expelling from their land and homes. We live under this constant threat because of Regavim's legal work in the Israeli courts and the political pressure on the Israeli authorities. At the beginning, Regavim was just a small organization – but now people can't tell where Regavim starts and the Israeli government begins. I ask all those who are concerned with justice and oppose racism stand against Regavim, raise awareness and defund it.'