6th August 2014 | International Solidarity Movement, Khalil team | Hebron, Occupied Palestine   
In al-Khalil (Hebron) on Sunday August 3rd, a 10-year-old Palestinian boy was walking to his home near the illegal settlement of Kiryat Arba when the Israeli military shot him in the chest with live ammunition.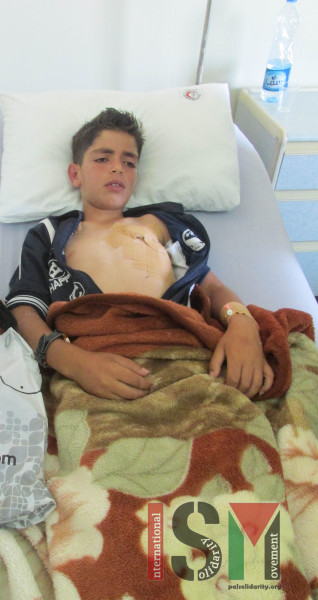 The following day, ISM volunteers went to visit the young boy in al-Mezan hospital. The young boy was in critical condition, and although doctors were able to save his life, the bullet remains in his left lung, as it is too dangerous to remove it.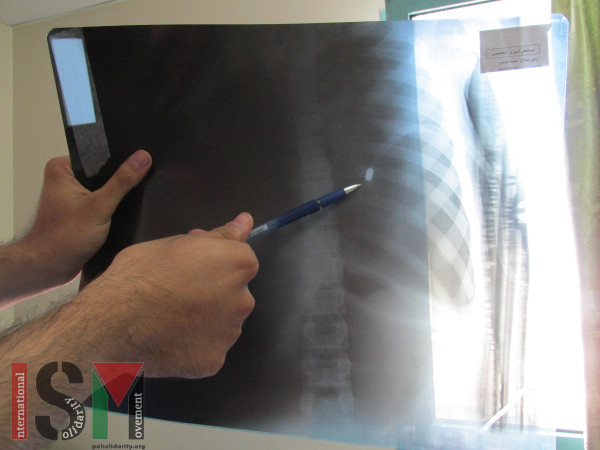 His father told the ISM volunteers that a relative of the boy witnessed the shooting and that it had been a man in a soldiers' uniform that shot him, without any visible motive. His father also pointed out that even if there had been a motive, such as if the boy would have been throwing stones, nothing could have justified this shot, which was clearly aimed at the heart of this 10-year-old child.
A funeral for a solder that died in Gaza was held in the Tel Rumeida area of al-Khalil between 1 AM and 3 AM last Sunday evening. The area was under heavy military presence, shop owners were forced to close down their shops early and Palestinians living in the area received orders stay in their homes and turn the lights off. Doctors at al-Mezan hospital have reported that in recent weeks there has been an increase in the number of bullet wounds resulting from live ammunition. Many of these wounds have been in the chest and abdomen, seemingly aimed to kill.