29 January 2013 | OCHA Displacement Working Group, edited by International Solidarity Movement, Al Maleh, Occupied Palestine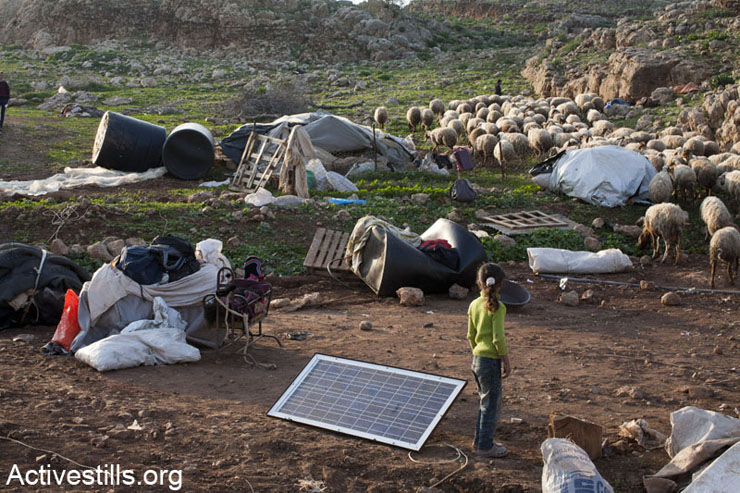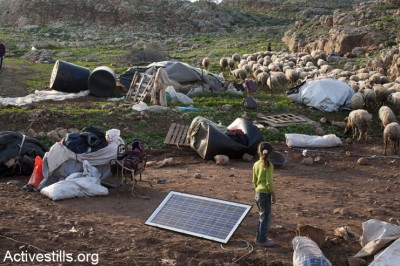 On 17 January, Israeli occupation forces demolished 47 (sic) residential and other structures in Hamamat Al Maleh area, displacing 60 people, more than half of them children. On 19 January, Israeli occupation forces confiscated basic emergency tents that had been provided to the families in the aftermath of the demolitions. On 21 January evening, while villagers tried rebuilding their homes, army returned and forced them to stop. A few days later, on 24 January, another 4 structures belonging to one of the displaced families were destroyed. Israeli occupation forces entered Al Maleh again on 25 January to photograph remaining structures. At the same time, a large group of illegal Israeli settlers, accompanied by Israeli soldiers, toured the area. The families have been informed by the army that if they erect further shelters or try to rebuild their homes, they will be subject to arrest and their livestock confiscated. As a result, the families have been forced to temporarily relocate to another area to receive basic humanitarian assistance, including emergency tents, after having spent several nights without shelter.
Hamamat al Maleh area is home to around 260 people residing in three clusters of communities: 1) Hamamat Al Maleh, 2) Hamamat Al Maleh – Al Meita and 3) Hamamat Al Maleh – Al Burj, which have existed in the Jordan Valley since the 1970s. The communities have suffered demolitions in the past, including in 2011 and 2012, and have also suffered repeated temporary displacement due to military training exercises carried out by Israeli occupation forces in the area. Prior to this year's demolitions, the affected families had received a combination of stop-work orders (30 July 2012), demolition orders (August/September 2012) and eviction orders from a closed military area (6 November and again on 31 December 2012). The lawyer of the families had tried to challenge these orders on numerous occasions, submitting the last request for postponement on 20 December 2012.
According to initial information the communities are located on a land owned by the Latin Patriarchate, with reportedly owns around 7,000 dunums of land in the area. Some of the land, including the land where Hamamat al Maleh-al Meita stands, has been designated by the Israeli military as a closed military zone for training purposes. However, the other two communities seem to be located outside the current boundaries of that area.
Here is a brief history of the nine days in Al Maleh:
Pre-2013: Since 2009, four demolitions took place in the Al Maleh area, all in Hamamat Al Maleh – Al Meita, on the grounds that the structures were located in a Firing Zone. During these demolitions – three in 2011 and one in 2012 – seven residential structures, 10 animal structures, and one beehive were demolished, resulting in the displacement of 36 people and affecting 35 others.
17 January 2013: Israeli occupation forces demolished 47 (sic) residential and animal structures: 20 residential tents (18 inhabited/2 uninhabited), 20 animal structures, five kitchens and one toilet in Hamamat Al Maleh – Al Meita and Hamamat Al Maleh. Two water tanks and a solar panel were also damaged. As a result, 10 families comprising 60 people, including 36 children, were displaced and two additional households including three children were affected.
19 January 2013: Between 6.30 am and 8 am, Israeli army confiscated 37 emergency tents (including 14 new tents given by Red Cross) provided as humanitarian assistance in response to the demolitions on 17 January, leaving the families without any shelter for themselves or their animals. The area was subsequently declared a closed military area and access to the area was restricted through existing checkpoints as well as several flying checkpoints. International observers and journalists were denied access.
21 January 2013: The Palestinian DCL (District Civil Liason), the Israeli DCL and the Tubas Governor carried out a joint visit to Al Maleh. Israeli army indicated during the visit that they would try to find an acceptable solution, but no further information has been received in that regard. In the evening the people of Al Maleh tried to rebuild their homes and tents. However, within one hour the army returned to demand that they stop rebuilding. Army's message is clear: "If you are going to put up any tents, structures, build anything, we are going to demolish it and punish you by confiscating your animals." People slept in fields, fearing further army retaliations.
24 January 2013: At 8 am in the morning Israeli occupational forces once again demolished homes in Al Maleh: a residential tent, a tent used for storage, a kitchen and a livelihood structure (for bees). A family of nine people including six children, was displaced as a result. Army bulldozers swifted off to Jiftlik to carry out another destructive piece of work.
25 January 2013: Israeli forces took photographs of all remaining structures in Hamamat Al Maleh as well as in Al Farisiya. A group of Israeli settlers, including women and children, visited the area on the same day, accompanied by Israeli soldiers.
The communities in Hamamat al Maleh are some of the most vulnerable in the West Bank. The restrictions imposed on their lives and livelihoods, including their repeated evacuation to make way for military training exercises, has increased their levels of poverty and their dependence on aid. These recent developments have had a devastating impact on the families, leaving them without adequate shelter, disrupting their livelihoods and access to basic services, and has resulted in trauma, particularly amongst the children.
Repeated displacement of civilians, combined with the destruction or confiscation of their property and the deliberate obstruction of humanitarian assistance, raises serious concerns under international law. Israel, as an occupying power, has an obligation to protect civilians at all times and to administer the territory for their benefit, ensuring that people's basic needs are met. International law specifically prohibits an occupying power from forcibly displacing or transferring civilians, regardless of the means or methods used, or to destroy or confiscate private or public property.
Now the villagers are relocated to another area. An NGO has provided shelters as part of humanitarian response, funded by EU. Israeli occupation forces keep taking photos of the village. The governor of Tubas is in communication with Latin Patriarchate. The village of Al Maleh continues to "exit by resisting", the latest example being on 26 January by planting olive trees and organizing a fun day for children, supported by other Palestinians and international activists. Israeli army reacted by closing off the area during these activities and by installing a temporary roadblock until late hours. Sources say that "the demolitions were inevitable as the Latin Patriarchate did not prolong the contracts to the villagers".
See more photos here. Related information can also be found on Jordan Valley Solidarity. See call to action here.