Update: On 19th January morning Israeli forces demolished and confiscated emergency aid, including 18 Red Cross tents, provided to displaced families in Hamamat Al Maleh. The whole area was declared closed military zone and observers and journalists were not allowed entry the entire day, only locals were allowed to enter.
18 January 2013 | Jordan Valley Solidarity, Occupied Palestine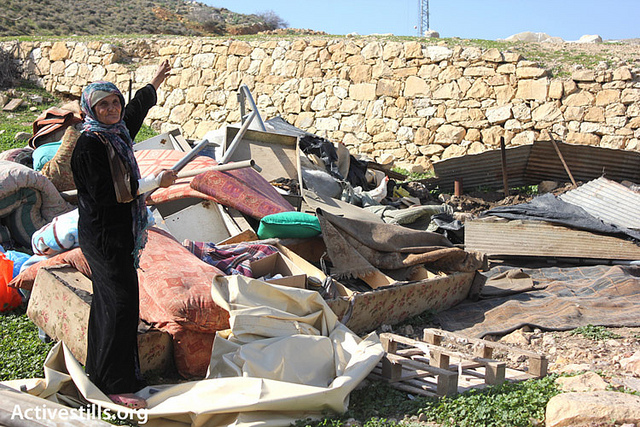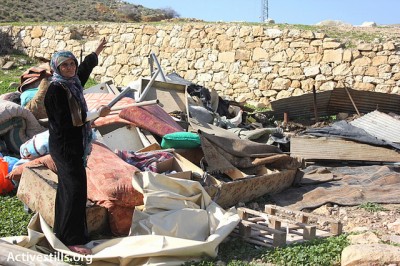 On 17th January 55 buildings were demolished in the Al Maleh area of the northern Jordan Valley.
At around 9.00 am these two communities were invaded by two busloads of soldiers, Israeli police, a number of jeeps and three JCB bulldozers. Some came from a nearby military base, and others from Maskiyot settlement complex, which overlooks al-Maleh. The bulldozer drivers were clad in balaclavas to hide their identity.
This large scale military operation happened simultaneously in two separate locations in Hamamat al-Maleh, and another further up the valley in Al-Mayta.
Upon arrival, the army declared al-Maleh a closed military zone, and refused entry to residents, observers and a delegation of medical staff whilst the demolitions took place. The masked, unidentifiable workers accompanying them assisted in removing possessions from resident's homes.
Of the 55 buildings demolished, 23 were family homes: 5 in Hamamat al-Male (leaving 37 people homeless) and 18 in Al-Mayta (leaving 150 people homeless). In addition 33 other building, used to shelter the communities animals, and therefore the livelihood of these communities, were destroyed. Amongst the destruction, purposefully wrecked water tanks were found — in a region of the West Bank where water is deliberately made scarce for Palestinians.
Al-Maleh and Al-Mayta are two marginalized villages located in the north of the Jordan Valley, near the Tayasir checkpoint. They have been subject to repeated harrassment and demolitions and only two weeks ago were forced to leave their homes overnight, purportedly due to Israeli military training.