At 11 am on Monday August the 11th approximately 200 Palestinians, Israeli and international activists marched towards the construction site of the illegal apartheid wall in the West Bank village of Ni'lin.
Photos courtesy of Activestills
The wall annexes more than half of the current farming land of Ni'lin and more than 80 percent of the land belonging to the villagers before 1948. Even the land that the Palestinians of Ni'lin have left after the construction of the wall is restricted to them. On the morning of the protest the Israeli army blocked the road half way in between the village and the construction site making it impossible for the farmers to reach and farm their land.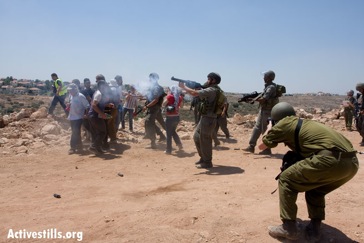 When the nonviolent protesters reached the sand road on which the illegal apartheid wall is being built, the Israeli army attempted to scare away the crowd by shooting live ammunition in the air as well as in the ground in front of the many people gathered. Huge amounts of teargas and sound grenades followed and divided the demonstrators into small groups. One group of Palestinians, Israelis and internationals kept trying to reach the construction machines, but were attacked by the many soldiers present.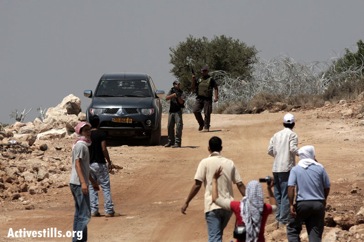 The Israeli army continued shooting teargas and rubber-coated steel bullets at the nonviolent protesters until 5 pm while they tried to escape from the brutality of the soldiers.
7 Palestinians where seriously injured and required medical assistance after being hit by rubber-coated steel bullets.
One French protester had to be hospitalised after being hit in the head by a teargas cannister at close range in the beginning of the demonstration.