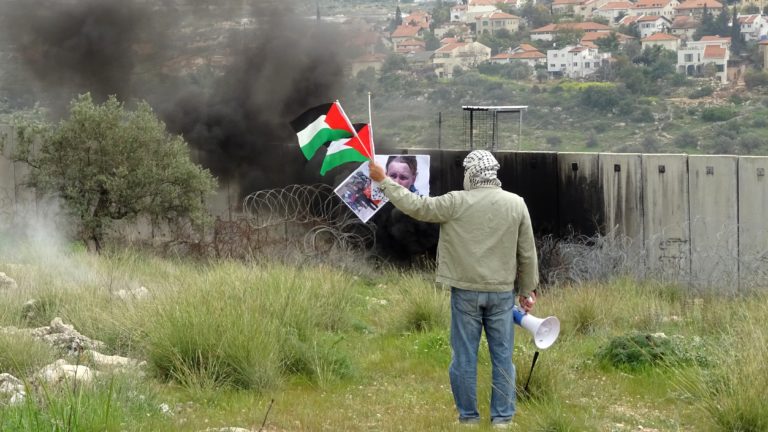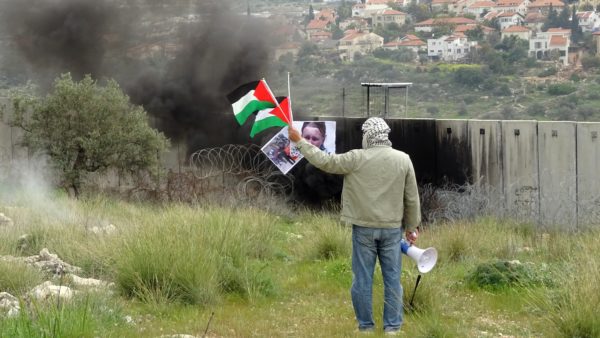 17th March 2017 | International Solidarity Movement, Ramallah team | Ni'lin, occupied Palestine
Today on 17/03/2017 the residents of Ni'lin alongside internationals and Israeli activists held a demonstration in memory of Rachel Corrie and Tristan Anderson, against the apartheid wall and against the occupation of Palestine.
A parade of around fifty demonstrators, including Israeli and ISM activists, marched from the olive groves outside the town towards the apartheid wall. Palestinian demonstrators carried flags and placards depicting ISM activists Tristan Anderson, critically injured after being shot in the head with a long range tear gas missile by Israeli forces at the same demonstration eight years ago; and Rachel Corrie, who was murdered by the Israeli forces fourteen years ago yesterday.
Local demonstrators set fire to tyres along the wall, waving flags and chanting at the illegal Israeli settlement located on their lands beyond, whilst Israeli activists called across using a megaphone. The Israeli Forces arrived shortly after, firing teargas over the apartheid wall and setting off sound grenades. Obscured by the smoke from the burning tyres, soldiers took photographs and fired some rubber-coated metal bullets at the protesters whilst the volleys of teargas continued. Young local men sent stones and teargas canisters back over the apartheid wall with their slingshots. The demonstrators ended by moving up the hill and back towards the town, having suffered no injuries.
The non-violent demonstrations against the apartheid wall and the occupation in Ni'lin have been going on weekly since 2008, as attempt to get back the farm land which was stolen from the villagers. Despite deaths, critical injuries and much repression the resistance continues.