On Friday the 11th of July, in the village of Ni'lin on the West bank, two non-violent demonstrations were violently dispersed by the Israeli army using rubber bullets, teargas, flares and sound bombs.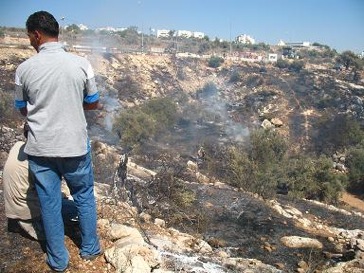 Hundreds of Palestinians and dozens of internationals and Israeli activists were driven away from their peaceful manifestations against the apartheid wall which will steal 70% of the villages land if constructed as planned. Army violence resulted in one injured and one Palestinian arrested and the soldiers set fire to the villages' olive groves, destroying at least forty trees.
Protesters gathered for a weekly prayer demonstration close to the construction site of Israel's apartheid wall were driven away shortly after prayer ended, as the Israeli army moved in a disproportional response to a few boys throwing stones towards the nearby checkpoint at the entrance to the village of Ni'lin. The army fired teargas and rubber bullets towards the crowd of peaceful demonstrators. Teargas canisters set fire to the olive groves, destroying more than forty trees in an inferno that was only kept at bay by the quick response of villagers.
Later the same night, villagers once again marched toward the construction site in a planned demonstration to make noise close to the illegal settlements behind the construction site of the apartheid wall. Villagers tried to construct roadblocks to stop the bulldozers from working, but were very soon driven back by heavy Israeli military violence. Eyewitnesses reported massive amounts of rubber bullets fired into the darkness were villagers, including children, and a few internationals were gathered. One Palestinian was arrested and at least one was injured. Once again the army set fire to olive trees by firing light- and sound bombs at the demonstrators.
The village of Ni'lin was recently invaded and put under curfew by the Israeli Occupation Forces, after two months of non-violent protests against the building of the annexation wall across the villages territory, a construction which if not hindered will result in the loss of around 70% of the villages' farmland.