After yesterday's turbulence, the Israeli army drew into the village of Ni'lin at around 2am this morning, the 6th of July. They threw sound-bombs, shot rubber-coated steel bullets in the air and pointed searchlights into the windows while snipers took position. At about 5am they declared a curfew through mega-phones and made a lot of noise up to about 7am.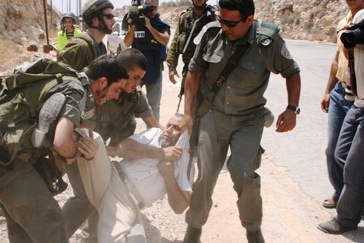 All the roads into and out from the village were closed during the day so no one could go to their work, resources could not pass through and reporters, as well as civilians in need of hospital treatment were stopped by the Israeli blockades. Palestinian medical relief was denied entrance to the village.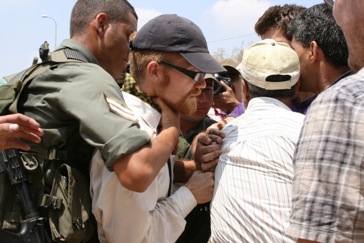 During the day some villagers defied the ban to go out and were walking on the streets. They were then shot at with teargas, rubber-bullets and sound-bombs. People standing on their roofs were also shot at, with one man hit by a rubber-coated steel bullets while refusing to go inside his house. The army also damaged this man's house and abused his 65 year old mother, according to witnesses.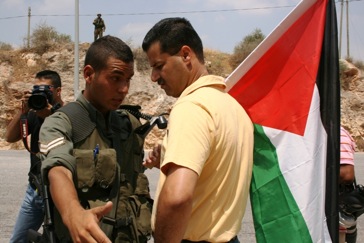 The army was also driving through the village from time to time while throwing sound-bombs, shooting tear-gas grenades, rubber-bullets and sometimes shouting on the mega-phone. 25 people were injured. Five houses were invaded by the army. 25 houses were targeted with teargas.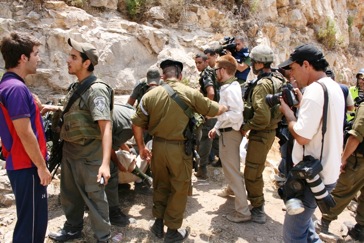 The medical team from the Red Crescent attempted to negotiate with the soldiers during the day, trying to get people out from the village, but they were denied each time. The twentieth time they tried to access the village the soldiers said they would shoot them if they attempted again.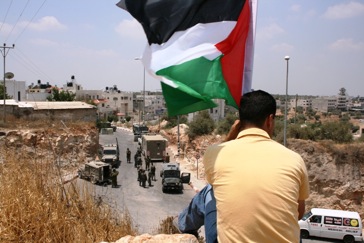 The army left the village at about 8pm in the evening. People then ran out on the streets to get food and other supplies, though there is not enough in the village because of the roadblocks. The roads to the village are still closed and the army has said they might be for the next nine days.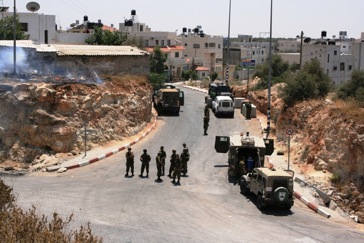 At 11am as a group of Palestinians and internationals attempted to enter the village in a show of solidarity, an old Palestinian man was detained, but later released. Border police violently assaulted the group as they protested at the main entrance to the village, grabbing one activist by the throat and ripping clothes.