As the Israeli blockade and imposition of curfew in Ni'lin nears the end of its fourth day (7th July), the violence continued as the Israeli army has escalated its force by completely surrounding the village and is maintaining a constant presence on the streets inside. The blockade, intended to prevent Ni'lin's demonstrations against the apartheid wall, comes as the four year anniversary of the International Court of Justice declaring the Israeli barrier illegal approaches on Wednesday.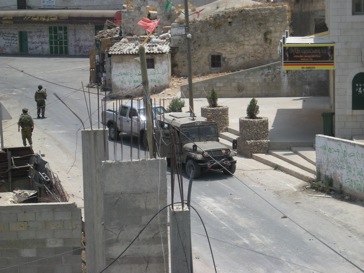 At least three residents of Ni'lin have been seriously injured with live ammunition as the villagers came out again to demonstrate against the closure of the village, while three Palestinians were arrested by Israeli border police earlier in the day. One of those shot is currently being operated on in a local hospital. Israeli soldiers have been firing tear-gas inside people's houses, one while three children were inside. Again, ambulances have been prevented from getting in and out of Ni'lin by the Israeli blockade. All attempts by Palestinian, international and Israeli solidarity activists to enter the village carrying supplies have been met by violence from the Israeli army, with two internationals injured from a rubber-coated steel bullet and a tear-gas cannister respectively.
Eight international solidarity activists maintain a presence inside Ni'lin, documenting the blockade from the inside, while breaking curfew with the villagers of Ni'lin as they come out to protest. Border police raided the apartment where the internationals are staying, but failed to get them to vacate the village.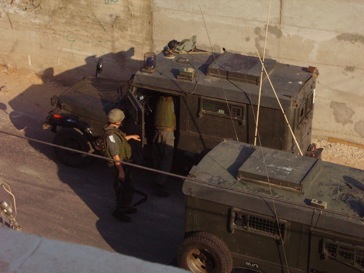 Witnesses have reported that the Israeli army is distributing leaflets informing residents that the curfew will end when the demonstrations cease. The siege is a form of collective punishment on the village as they uphold their resistance to the occupation through non-violent demonstrations. Since the start of the siege on Friday, violence on the locals, on the Internationals, and on the Palestinians from neighboring villages (that are in or have tried to enter Ni'lin) has continued to intensify.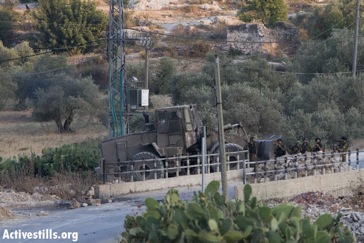 The growing use of force over the past four days is a collective punishment for the village's history of continuing to organize non-violent demonstrations. As the army continues to maintain a chokehold over the village, essential medical and food resources are waning.
This siege by the Israeli army to prevent non-violent protests against the apartheid wall come exactly four years since the International Court of Justice declared the Israeli barrier illegal. The village of Ni'lin is about to lose approximately 2500 donums when the construction of the apartheid wall is finished. From having over 57 000 donums in 1948, the village has seen its land decrease to 33 000 donums in 1967 to about 10 000 donums at the present time. The villagers fear that the next annexation will be the death blow to the village's economy.