August 20 | International Solidarity Movement | Beit Ummar, Occupied Palestine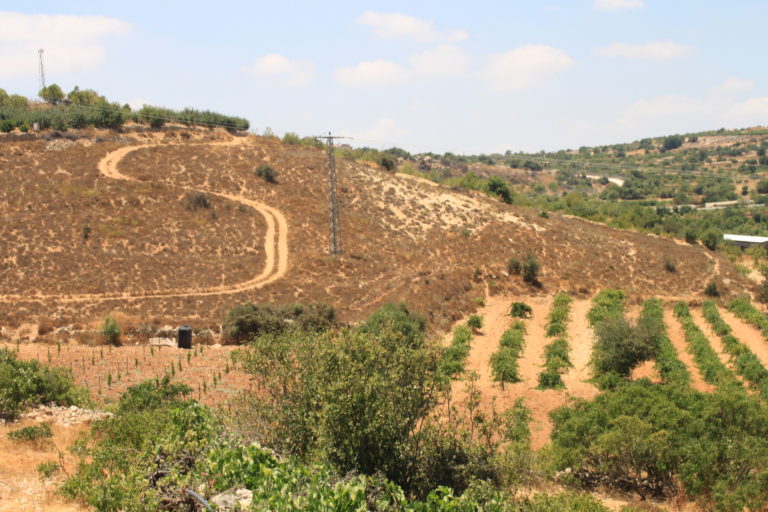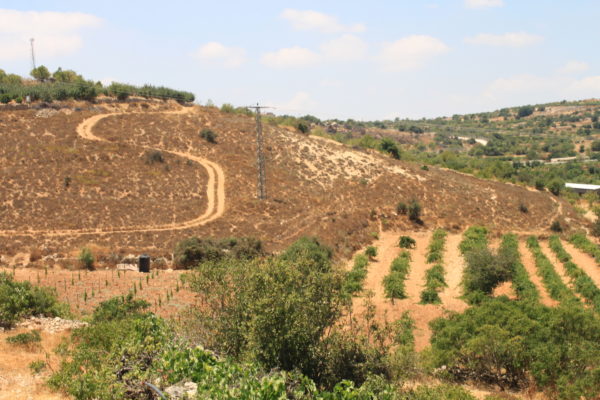 Beit Ummar is an agricultural town and farming community just north of Hebron, with a populace of about 17,000. Al Shoroq, a Palestinian led group comprised of local activists based in the region since 2013 founded by longstanding committee members, work with families, farmers and the community to create resistance based empowerment through skill building, construction and collective work. Al Shoroq as an organisation are focused primarily on assisting in sustainability and development in Area C; Israeli controlled areas containing Palestinian families, farmland and buildings long standing on now occupied territories, which currently makes up 70% of the land. Beit Ummar is under constant scrutiny and stress from the Israeli government and military, and more increasingly, Israeli settlers.
Settlers are extremely volatile in their treatment of the residents of Beit Ummar, frequently shooting at farmers, cutting down their trees, attacking their livestock or burning their land so that the soil will not bear plantation. One of Al Shoroq's avenues of support for the farming community is to replant trees. Recently 1000 olive trees were planted to replace those destroyed previously by settlers, only for the settlers from Bat Ayin to then tear them down and raze the ground earlier this year. Israel also controls and restricts the integral local resources in the area, including water, as Yousef Abu Maria explained: "Israel takes all the water to use on their trees, you can see the difference between the Palestinian and Israeli trees."
There is growing evidence of extreme oppression in the area, and the rate in which land is taken and occupied is faster than ever. Another founding member of the organisation warned: "Problems like this happen constantly; it is impossible to live and work well here. The Israelis want the Palestinians to leave their land. 15 years ago, there were only 10 houses in the settlement in Karmei Zur, now, you can see 1,000. To do this, they take Palestinian land. The Israeli area has grown from 100 dunums" (100,000m2) "to 6,000 dunums". (6,000,000m2). In interview, representatives of the municipality asserted that "This is the main aim of the occupation – to press the people, until they are fed up, to make them leave their land, to leave Palestine. It will NEVER happen. We are Palestinian. It's our land. We will stay here. We will die here."
Settlements at this point are surrounding and cutting off Beit Ummar, from all accessible sides, via Karmei Zur, Bat Ayin and Gush Etzion. On the remaining side are uninhabitable rocky valleys and mountainous terrains. While the entirety of the West Bank is dramatically affected by the occupation, Beit Ummar is a special case, as they are completely surrounded by settlements and the apartheid wall. The settlements are constantly undergoing expansion, ebbing away at Palestinian land. Naturally this has made daily life incredibly difficult for residents of Beit Ummar, their routes cut off and their land under threat from the occupation and biased military intervention. "If a Palestinian has to go to the hospital, or they want to go to pray, but the checkpoint is between them and the hospital or mosque, they can't" explained one of the founders of Al Shoroq, Yousef Abu Maria.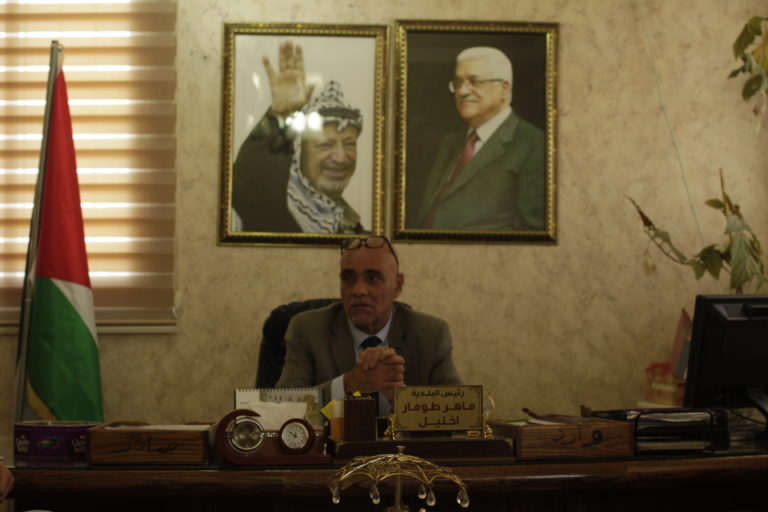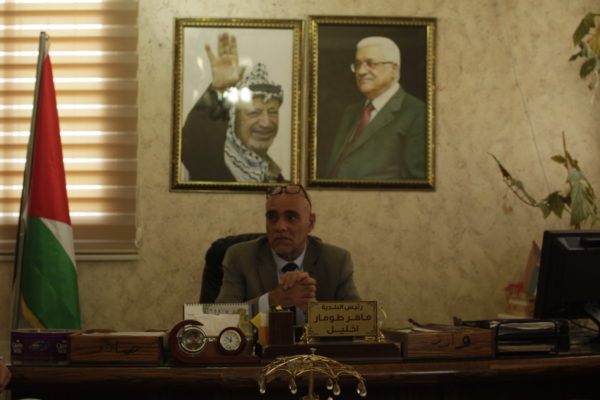 "The suffering is daily, in our own land. This is our land." – The Mayor of Beit Ummar.
The community suffers first hand in this situation. Whilst under constant harassment and devastation of the land, there is also the factor that Israel bars Palestinian farmers from sending their produce to external markets, overseas or even as close as Jordan. This coupled with the lack of employment and opportunity results in economic turmoil.
The occupation affects every Palestinian territory in the West Bank. In the case of Beit Ummar, a once thriving agricultural community is now under the constant threat of a new invasive manipulation of the law served only to make life harder for Palestinian residents, whilst simultaneously closing the area off, making movement incredibly difficult.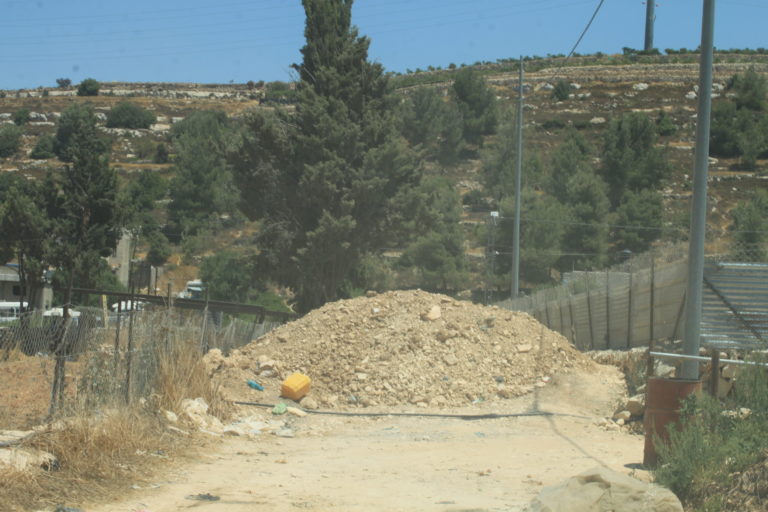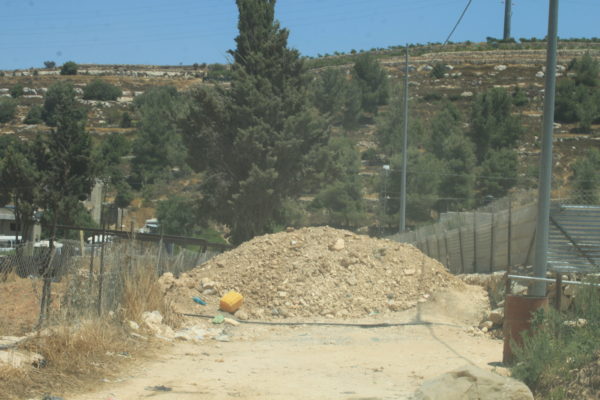 A blocked Palestinian access road.
International funding for Settler-only roads is met, whilst pre-existing roads for the Palestinian people are blocked and destroyed. A member of Al Shoroq stated that: "Any Palestinian that wishes to work in Israel occupied areas, cannot enter without a special permit, and even then, they must pass through a checkpoint which takes hours. Workers have to get to the checkpoint at 2am to wait to pass through to get to work in time. There are many people waiting there, and have to wait 4-5 hours to enter Israel. For many Palestinians, they are not even granted a permit, so are unable to move through checkpoints."
Representatives of the municipality added: "So what about the farmers? Daily they have to go to their land to take care of it. They need permission every time? It is too difficult!"
The main entrance to the town is now situated next to an arbitrarily designated 'military zone' with a consistent Israeli military presence. However, there is no Palestinian police station in Beit Ummar, and so, if police presence is required, it has to be approved by the Israeli Civil Administration. This process takes up to 6 hours to get approval to enter, which more often than not, will result in rejection. This is not only dangerous, but denial of a basic human right for the people of Beit Ummar. as they cannot receive direct or timely emergency response in critical situations.
Al Shoroq's work is imperative in sustaining a resistance to the land grab tactics and destruction long imposed on the innocent civilians of Beit Ummar. They are a singular force taking a stand against the ceaseless abuse of human rights in the town.
The founders of Al Sharouq have been working as a commitee for 15 years against the separation wall, settlements, the closing of road 60 for Palestinians. Around 2013, they formed Al Sharouq organisation and started working in humanitarian intervention, supplying food boxes, clothes, beds. The opportunity to start a small scale project for the farmers or for the women has been difficult. Al Sharouq do what they can, but it is not easy to do this work alone. They need support from the international community, to support fundraising for this project in their countries to help the farmers of Beit Ummar. – Al Shoroq member.
As the only tangible source of support, Al Shoroq are an integral part of the Beit Ummar municipality, also performing outreach work across Hebron and Yatta. They are small in number, but their dedication to improving the quality of life for Palestinian inhabitants of Area C is great, and appreciated throughout the community.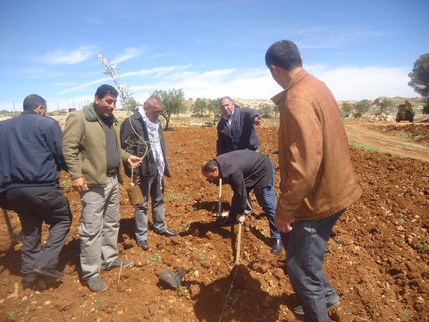 "What can we do to resist the occupation? We protest Israel's plans for demolitions, building of walls, and sometimes we are successful in stopping their building plans, but most of the time we are not. The occupation has been going on for so long, that any small thing we can do to fight or support people to stay in their land, is a big thing."
"Maybe we can't stop the wall, but we can support people to stay living and working where they do, near the wall, or near the settlements. If the farmers do not have anyone to support them to stay where they are near the wall, or a settlement, and they leave, it is easy for Israel to expand the settlement, and push back the wall even more." – Al Shoroq member.
Al Shoroq and the community of Beit Ummar are fighting daily against multiple impending threats as a result of the occupation. How dangerously close the settlements now are, the threats of security guards and settlers, the burning and razing of plantations, of homes, and of land to ensure that nothing is rebuilt. The terrorising nature of the occupation is seen here in full swing. A crater of rubble and corrugated twisted metal from the Israeli military's destruction of what was – until recently – a thriving family home, acts as a reminder that nothing is off limits to the Israeli occupation.
"But there are many things we can do. We support the farmers to plant olive trees, we build wells so the farmers can easily access water, we run workshops on how farmers can resist the occupation and stay on their land, we provide legal support and documents to the farmers so that they can prove ownership of their land to Israel, we make food boxes for the people who are really suffering. All of these activities we do, while we never stop demonstrating against Israel and their plans. This is the goal of Alshouq, it's a simple goal." – Al Shoroq member.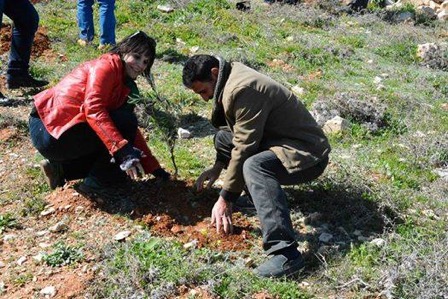 "We can start small and get bigger and bigger." – Yousef Abu Maria
But to achieve this goal effectively and to make a deeper impact on the unrelenting injustice of the occupation, Al Shoroq require the support of internationals and partner organisations. To focus and maintain global attention to their cause, to support and assist in the excellent progress they are making in the face of the oppressive Israeli regime, and to help expand their team and abilities with people power, funding, publicity and communication. Al Shoroq would like to reach out to fellow communities, organisations and individuals, so that they may visit and support the people of Beit Ummar by building small projects in the area, improving the stance on agriculture, support and outreach, by spreading the word, fundraising, planting, building and making imprints on the unjust state of things; sowing the seeds to return their land to a place of strength, unity and resistance.
"We have so many daily problems, but we have to exceed them. By any way we have to exceed them." – The Municipality of Beit Ummar
To join Al Shoroq's voluntary programme or to donate to their important work, please contact: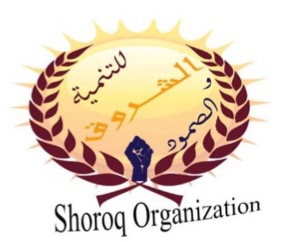 Palestine-Hebron-Bayt Umar-Main Street
Tel: +972598139591