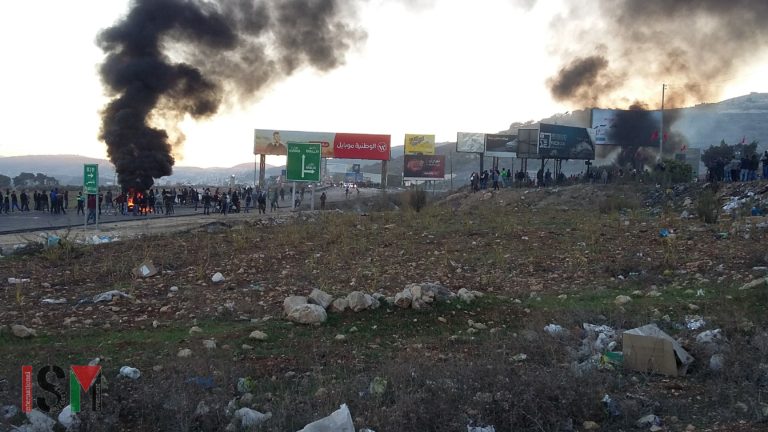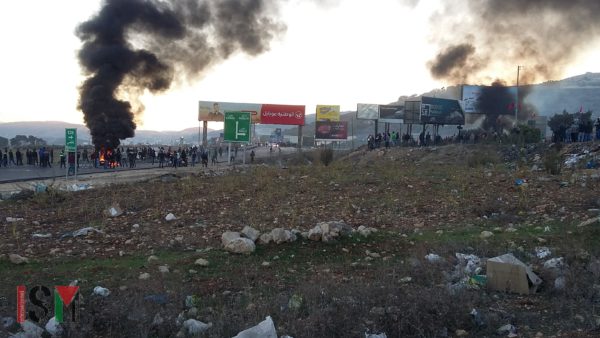 December 8th 2017 | International Solidarity Movement, Nablus team | Nablus, Occupied Palestine
Palestinians protests against Trump's decision about Jerusalem have kept on today all across the West Bank and the Gaza Strip. Today in the village Kafr Qaddum in the northern West Bank around 200 Palestinians and internationals gathered in a large Friday demonstration to protest the decision.
The group gathered in the centre of the the village before heading down the main road that has been closed since 2003. People were holding flags and banners and a lot of children were present. As soon as the group reached the outskirts of the village they were met with rubber coated steel bullets from soldiers from the Israeli military that were located both at the main road and on a nearby hill. Palestinian boys from the village threw stones that were met with bullets. The rubber coated steel bullets can be very dangerous if they are fired from a closed range or if they are fired at the head.
After an around half an hour a 14-year old boy got shot with a rubber coated steel bullet in the head. Soldiers then continued to fire the rubber coated steel bullets and live ammunition at the group. In the end they fired massive amounts of teargas at the protesters. In total 27 Palestinians got injured, 11 with rubber coated steel bullets and 16 by teargas.
In the town Huwwara, situated close to the city Nablus, a demonstration escalated with live ammunition and teargas. As a reaction to the increasing tension in the West Bank, Israeli army blocked the Huwwara checkpoint in order to limit Palestinians' movement. This led to a massive response from people from Nablus who gathered at the Huwwara checkpoint and protesing and throwing stones. The clashes lasted until the dusk with rubber coated steal bullets, teargas and live ammunition.