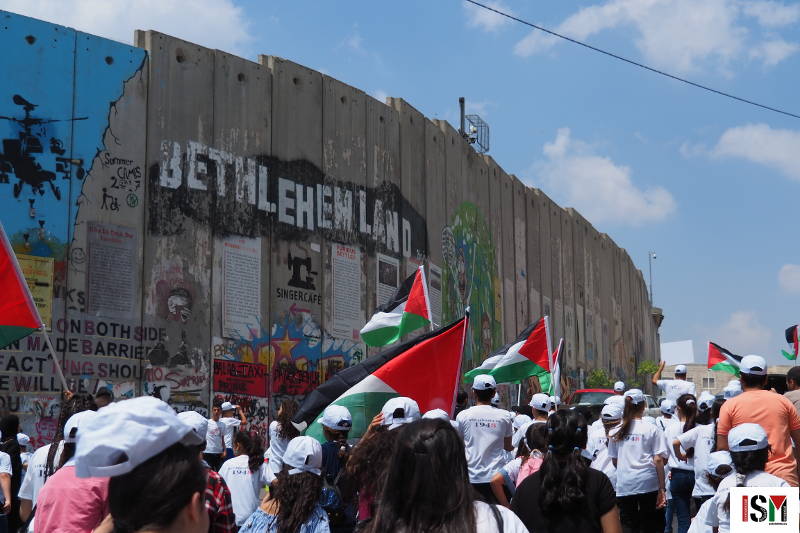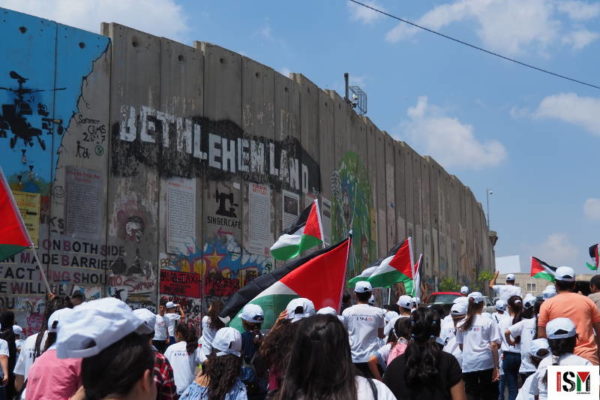 Protesters gather for symbolic marathon near Apartheid Wall in Bethlehem
June 19 2019 | International Solidarity Movement | Bethlehem, occupied Palestine
Hundreds of people gathered in cities across the Palestinian Territories and England on Sunday June 15, to participate in a symbolic marathon in honour of the international right to freedom of movement. 
The project, called "Small Park Big Run', takes place every year thanks to the cooperation between solidarity groups in Sheffield and the Palestinian regions of Gaza, Nablus, Ramallah and Bethlehem. Two ISMers joined the run in Bethlehem, organised by Aida refugee camp community centre Aida Youth Centre, where the event was happening for the first time.
The purpose of the race was to raise awareness about Palestinian oppression focusing on Israel's flagrant violation of the Palestinian people's human right to freedom of movement, to raise money for local groups and to condemn the "Deal of the Century," – the US's new Middle East 'peace' deal devised by Trump's radical Zionist son-in-law Jared Kushner. 
In Bethlehem, the race kicked off near the infamous "300 checkpoint" where thousands of Palestinians are forced to queue as early as 3am every morning to make it to their jobs in Israel on time. According to the UN Office for the Coordination of Humanitarian Affairs, it is just one of the 700 road obstacles which controls Palestinian movement within the West Bank and one of its 140 checkpoints. Protesters ran past another important symbol of the control and the oppression that the Palestinian Territories face everyday – the 708km Israeli West Bank Barrier.
Protesters finished the race by breaking through a replica of the Division Wall – a symbolic finish line – at the entrance to Aida Refugee Camp.
Freedom of movement is guaranteed under international human rights law, which fundamentally stipulates that everyone shall be free to leave any country, including his or her own, and that no one shall be "arbitrarily deprived of the right to enter his or her own country". The importance of this right results from the fact that this is a prerequisite to the exercise of other human rights, such as the rights to family, health and education.
Israel's restrictions on the freedom of movement in the West Bank includes checkpoints, roadblocks and permit restrictions, as well as the Division Wall it has constructed along the West Bank side of the pre-1967 border. The Society of St. Yves, a legal centre based in Jerusalem, reports that: "Combined, the application of military law and control of the issuance of permits have the effect of segregating and oppressing Palestinian nationals and relegating them to second-class citizens in their native homeland".
Other threats that reduce the right of movement is the presence of settlements officially established by the Israeli government after 1967, which is considered illegal by the international community, and the building of new outposts without government approval and so considered illegal even for Israeli law.