11th November 2015 | International Solidarity Movement, al-Khalil Team | Hebron, occupied Palestine
This morning, for four hours from 9am to 1pm, a group of  Israeli Settlers were training on the rooftop of the illegal settlement building, Yona Menachem Rennert Beit Midrash, on Shuhada street. An instructor taught them how to hold a gun properly and how to adopt the best body position for shooting correctly. The young settlers were all carrying guns and shouted continuously during the exercises, disrupting the children and the teachers of Qurtuba school during their lessons, and also the neighborhood life, like for the Palestinian farmers who were picking olives on their land, near the school.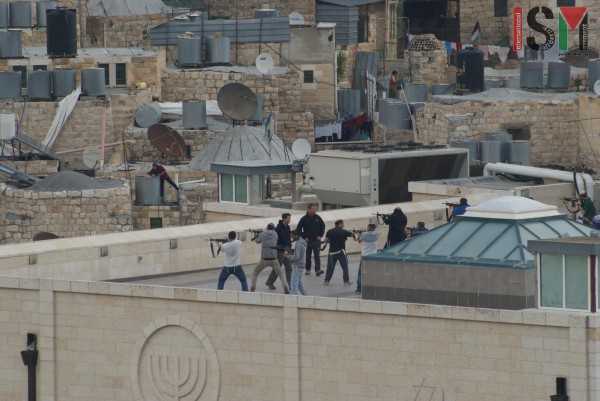 This kind of settler training, which takes place several times a week in the illegal settlements of Al-Khalil, are part of the Israeli settlement strategy. This is one example of how they are indoctrinating their youth, teaching them to hate Palestinians, and encouraging attacks against them.
Israeli law allows any Israeli who has a firearms license to carry a gun in the street. While the Palestinians have to endure the daily humiliation of being searched at each checkpoint as well as total military control of their daily life in case they might be carrying a knife,
the Israeli government has declared that the restrictions around obtaining firearms licenses will be reduced for the Israeli security forces and Settlers alike. Last Thursday it was the Mayor of Jerusalem, Nir Barkat who called on all Israelis with firearms licenses to keep their weapons permanently with them, to protect themselves from attacks by Palestinians.