21st March 2015 | International Solidarity Movement, Ramallah Team | Nabi Saleh, Occupied Palestine
Israeli forces arrested three women in Nabi Saleh and injured several protesters, one with live ammunition, during the village's weekly Friday protest on March 13. 
The demonstration was met with the usual military violence as Israeli forces threw stun grenades and fired live ammunition at  unarmed and peaceful protesters. After Friday prayers about forty Palestinian protesters together with international and Israeli activists marched down the main road towards the military tower and checkpoint at the entrance to the village, which Israeli forces had closed before the protest. Within less than five minutes the Israeli military fired the first of many rounds of tear gas canisters. The protesters continued regardless and were meet by a line of Israeli soldiers whose use of unnecessary physical violence and many stun grenades resulted in multiple injuries.
Israeli forces threatened Nabi Saleh children, who walked down the road nearer to the closed gate. One young girl was hit with a rifle in the stomach and the head; she went to the hospital for treatment. Two Palestinian women – Bushra Tamimi and Shireen al-Araj – and Israeli activist Tali Shapiro were arrested and dragged away by Israeli forces.
The violence escalated near the end of the protest; Israeli forces used live .22 caliber ammunition and shot a young Palestinian in the lower leg. The bullet missed the bone, and he will likely recover soon.
The village of Nabi Saleh has been demonstrating against the theft of its natural spring by the occupation since 2009. Israeli authorities have violently suppressed the weekly Friday protests since their inception – in the last few months alone, several villagers have been shot in the leg with live ammunition. Since the actions began, two people have been killed in the village – Mustafa Tamimi and Rushdi Tamimi; many others have been seriously injured. Despite the Israeli forces' severe repression, the people of Nabi Saleh continue to fight against the brutal military occupation.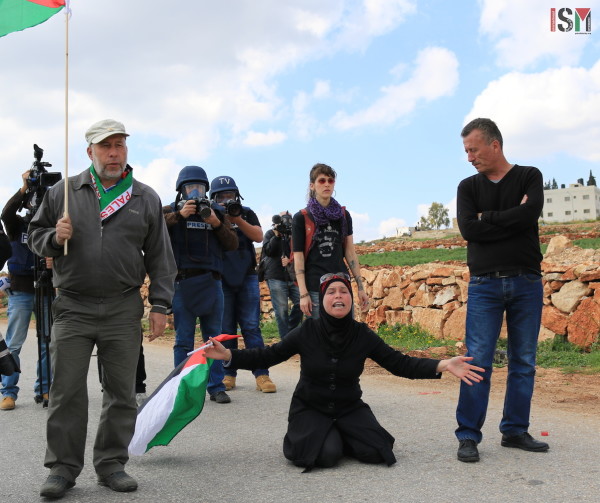 Israeli forces released Tali Shapiro on the night of March 13, and Shireen al-Araj the following day. Bushra Tamimi was released on the evening of March 15 after paying 2000 NIS bail.