14th May 2013 | International Solidarity Movement, Qaryut, Occupied Palestine
By Team Nablus
Settlers from the illegal colony of Shilo set fire to land belonging to the nearby village of Qaryut. Around 25 families own land in this area. The land contained wheat crops and olive trees and is next to land previously stolen by settlers, which they had been cultivating for themselves only two days before.
Red Crescent paramedics went to the scene of the fires at around 6pm, where many villagers had already arrived hoping to put out the fires. However they were prevented from doing so by four settlers and half a dozen soldiers who had turned up to protect the settlers. Villagers were made to stand and watch their future harvest go up in flames. With the fires building up they had nothing to do but argue in vain with the soldiers about the gross immorality of the situation.
The settlers present also prevented the fire from spreading on to the annexed land they have been cultivating. It was clear to see the fires had been deliberately lit as there were many separate fires in a close range, rather than one large fire spreading on the overcast and wet day. Villagers witnessed Moshka, one of the settlers – (who is a regular problem causer; his son is a patrolman for the settlement too) – use a lighter to set fire to their land. The fire was only put out by the arrival of heavy and atypical rain from a thunderstorm an hour later.
Two days prior to this attack the settlers had started ploughing stolen land and cut down four trees. They have been expanding the settlement on the Palestinian side of the highway to Ramallah and Jerusalem. Fifteen dunams of land was torched. Meanwhile two dunums of wheatfields had been burnt in the South Hebron Hills earlier that day.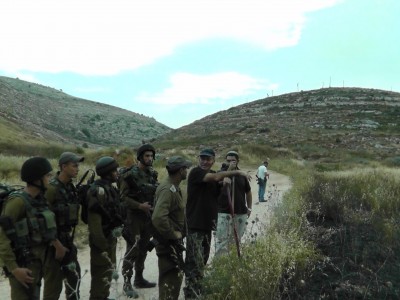 A familiar sight, soldiers and settlers working together (Photo by Qaryut villagers)