8 January 2013 | No 2 Veolia Action Group, London
Vociferous local campaign by the No2 Veolia Action Group leads Occupation profiteer Veolia to withdraw from colossal waste management contracts. No 2 Veolia Action Group (No2VAG) are celebrating a huge victory with the withdrawal of Veolia, a multinational company complicit in Israeli violations of international law, from the final stage of the North London procurement process.
In a statement on 21st December the North London Waste Authority, which represents the seven London boroughs covered by the £4.7bn contracts, made the dramatic announcement that it had "received notification from Veolia Environmental Services that they will not be submitting final tenders for either NLWA's waste services or fuel use contracts." For two years the No2VAG has vigorously campaigned for Veolia to be removed from the list of bidders due to its grave misconduct in providing infrastructure to illegal Israeli settlements. Despite this involvement, Veolia was shortlisted for the final bids in February 2012.
This extraordinary withdrawal of Veolia comes after an intensification of the campaign against the company. The No2VAG staged twelve protests over the last two months at each council contributing £600m to the £4.7bn contracts.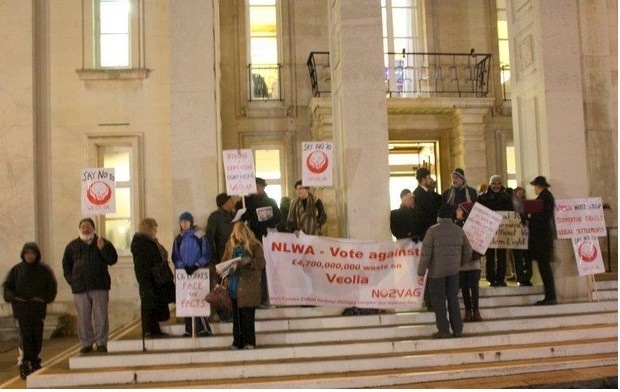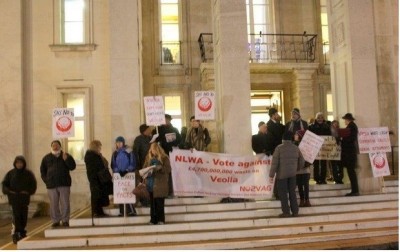 The procurement process was shrouded in secrecy and campaigners faced a wall of denial when it came to Veolia's unethical practices, environmental and technical shortcomings and financial instability. Engineer Rob Langlands and secretary of No2VAG said, "North London residents want an environmentally responsible and cost effective solution to waste disposal. The Veolia technical proposals were not on track to provide this. I am especially delighted because of the ongoing Veolia involvement in the illegal Israeli settlements that the Veolia bids have now been consigned to the rubbish bin."
Yael Kahn, chair of No2VAG said, "Our strategy to force councillors to seriously consider and publicly debate the issues at stake and the further actions planned No2VAG played a critical role in achieving our aim of eliminating Veolia from the NLWA procurement process."
On 21st November, No2VAG spokeswoman Caroline Day was surprised to discover that her deputation regarding Veolia to Hackney Council, which had been approved by the council lawyers, was prevented by a procedural motion supported by the Mayor of Hackney.
It was reported in the Jewish Chronicle that the motion had been drafted by UK Lawyers for Israel (UKLFI). David Lewis from UKLFI then told the Hackney Gazette newspaper that an "instrumental" role had been played by Hackney Councillor Luke Akehurst, the director of campaigns at 'We Believe in Israel', an advocacy network created by the Britain Israel Communications Research Centre (BICOM). On hearing the news that Veolia had withdrawn Caroline said, "This is a huge victory for local democracy. Powerful lobbies representing unethical interests in the illegal settlements may have won a short-term victory in silencing me, but in standing up for their right to see their money invested ethically, local people have achieved a victory for justice."
On 13th December the arbitrary nature of Hackney Council's political censorship was exposed and a symbolic victory was achieved when Irfan Akhtar of Waltham Forest Council of Mosques and the No2VAG gave a powerful speech at a Waltham Forest Council meeting detailing why Veolia was an unsuitable choice for an important public service. Irfan was delighted with the news and said, "This massive victory is the result of serious campaigning by people who possess the common and moral sense to stand up against injustice. No2VAG working tirelessly across all seven boroughs over nearly two years has paid dividends. The WF Council of Mosques is proud to be part of this campaign and we know all victory is from God and we dedicate this victory to the people of Palestine."
Following the NLWA announcement, Israeli-born Yael Kahn responded by saying, "I was determined to block Veolia and the only question was how to achieve that. The NLWA appeared equally determined to select Veolia in spite of the evidence against the company. It was the toughest campaign of my life but I was haunted by the thought of Veolia which has been instrumental in Palestinians being driven out of their homes in occupied east Jerusalem and the West Bank, getting a £4.7bn handout from us in north London."
Multinational companies like Veolia are finding that around the world complicity with Israeli war crimes is increasingly bad business. Just yesterday, on 20th December, the St Louis City Board shelved a Veolia contract pending an investigation into the company's association with human rights abuses, corruption and violations of law. This is the latest setback for the beleaguered multinational occupation profiteer, which has been denied contracts in several European cities in the wake of campaigns by human rights activists.
The No2VAG would like to thank all the people who actively contributed to the intensive lobbying of our elected representatives, collected many thousands of signatures against Veolia and made their voices heard at protests and in the local media and special thanks to the WF Council of Mosques for their pivotal role in this campaign.