by Team Khalil
25 January 2013 | International Solidarity Movement, Nabi Saleh, Occupied Palestine
Israeli occupation forces enter the village of Nabi Saleh during the weekly demonstration. Youth hit in the head by tear gas canister.
The Friday demonstration in Nabi Saleh this week was dedicated to the memory of Lubna Hanash, 22, and Salah Amareen, 15, murdered this week by the Israeli army.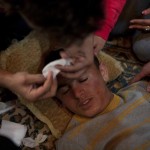 At 12:30 the demonstration marched through the village with, as usual, the children of Nabi Saleh arm in arm skipping and singing along. The Israeli army broke up the demonstration with skunk water, tear gas and excessive use of rubber coated steel bullets. A stand off ensued with the shebab defending their territory. At 13:45 the Israeli army aggressively entered the village. Around 14:00 a youth about 16 years old was hit in the head with a tear gas canister. A Palestinian Red Crescent medic rushed to treat the injury. Two other people received minor injuries.
The demonstration aims to reach their natural spring, the use of which has been denied to the village by the illegal settlement of Halamish. The people of Nabi Saleh were shocked and dismayed by the news that on Tuesday 22nd January 2013 Israeli occupation forces began work on expanding the illegal settlement. Settlers accompanied by the Israeli army arrived at dawn, tearing up the land with bulldozers and trucks to set up fifty mobile homes on land that belongs to Nabi Saleh.
For a personal account from a resident of Nabi Saleh about the theft of the village's land, click on the following link: nabisalehsolidarity.wordpress.com
Team Khalil is a group of volunteers of International Solidarity Movement based in Hebron (al Khalil)