30 December 2012 | International Solidarity Movement, Urif, Occupied Palestine
International Solidarity Movement, Urif, Occupied Palestine – Israeli soldiers invaded the village of Urif for the fourth time in six days on Saturday 29th December.
Urif has been attacked by settlers from the nearby illegal settlement of Yizhar on every Saturday in the past few months. Armed settlers protected by soldiers go down the hills overlooking Urif and start throwing stones at the local school as well as homes situated on the outskirts of the village.
Yesterday, instead, a group of settlers stayed on a hilltop near the village watching Israeli soldiers chasing away people that had gathered near the school to defend the village in case of the usual settlers' attack. Israeli soldiers and Border Police went into the centre of the village at 2:30pm and stayed until 6:30pm shooting tear-gas, rubber-coated steel bullets and stun grenades at people, vehicles and houses in Urif.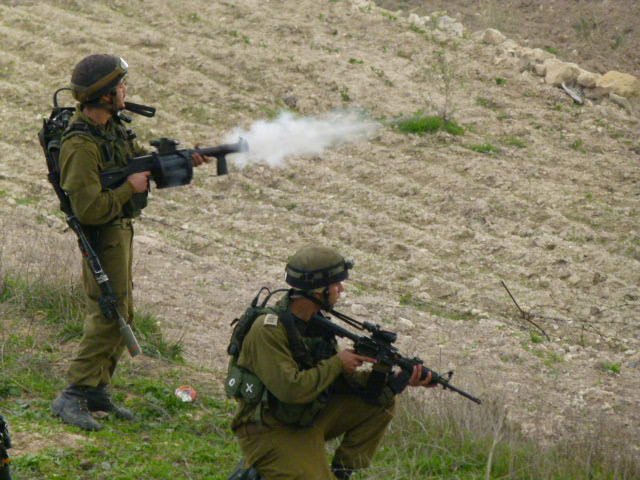 In one particular incident, a group of soldiers that had positioned themselves on a balcony started shooting tear-gas and rubber-coated steel bullets directly at international human rights observers standing on a roof in front of them.
In the past five weeks daily settlers' attacks, followed by Israeli army aggression at those who go to confront the settlers, have completely disrupted life in Urif. On the nights of Monday and Wednesday soldiers, without provocation, entered the village at 1:00am and shot tear-gas and stun grenades until the early hours of the morning. On Thursday, Israeli soldiers attacked a school with tear-gas and stun grenades, sending scores of three to six year old children running down the hills of Urif, and then imposed a curfew on the village. The massive amount of tear-gas shot in the village has also led to seventeen women having a miscarriage in the past month.