2 August 2011 | International Solidarity Movement, West Bank
At 3am Qalandia refugee camp was invaded by the Israeli army. Approximately 300 soldiers raided the camp, shooting live ammunition directly at people,  killing two Palestinians. The two young men, Mutasin Issa Udwan who was 22 years old was declared to have passed away when he was shot in the head. Ali Khalifa, 23,  was shot in his stomach and died on the way to Ramallah hospital.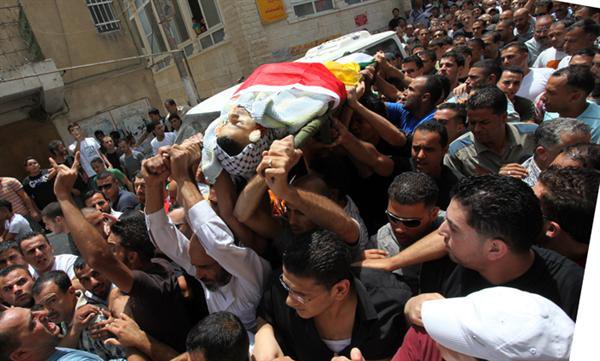 According to the military it was a "routine search and arrest" operation, in fact the Israeli army also arrested two palestinians Wajih Ayman Al-Khatib and Anas Manasrah.
Witnesses said that the snipers were positioned on roofs and shot directly at anyone who was exiting the houses.
At noon thousands of people from the camp attended the funerals of the two young men and proceeded to march through the camp to the cemetery to bury their declared martyrs.