18 May 2011 | Harriet Sherman Guardian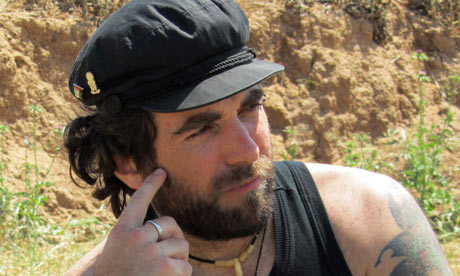 I was sent a link this week to a piece published in the Jewish Chronicle by historian Geoffrey Alderman, the opening sentence of which I found pretty shocking.
Under the headline This Was No Peace Activist, Alderman wrote:

"Few events – not even the execution of Osama bin Laden – have caused me greater pleasure in recent weeks than news of the death of the Italian so-called 'peace activist' Vittorio Arrigoni."
Arrigoni, an activist with the International Solidarity Movement, was murdered in Gaza last month after being abducted by Islamic extremists. He was strangled with a plastic cord. Hamas subsequently killed those responsible for Arrigoni's death.
His murder, wrote Alderman, "was immediately pounced upon by the western media as an affront to the civilised world". This is indeed the case; many newspapers – including the Guardian – ran stories and profiles describing Arrigoni's commitment to the Palestinian cause and the extremist stance of those who killed him.
But, wrote Alderman, "the truth is very different. Vittorio Arrigoni, a disciple of the International Solidarity Movement, had travelled to Gaza to assist in the breaking of the Israeli naval blockade. As a supporter of Hamas he was a consummate Jew-hater."
He said Arrigoni's Facebook page – in Italian – contained "explicit anti-Jewish imagery".
I asked Alderman – who has occasionally contributed to the Guardian – whether he regretted recording his "pleasure" at Arrigoni's death. "It's still my view," he told me on the phone from London. "He was a Jew-hater like Adolf Hitler. Yes, he deserved to die for being a Jew-hater. I rejoiced in the death of a Jew-hater. I have no regrets."
Jeff Halper, an Israeli activist and academic, who knew Arrigoni well, said Alderman's charges against him were "outrageous".
"Sometimes things are so outrageous there simply isn't a response. Vik [Arrigoni] was unique. He was political and he had strong opinions. But the idea that he would differentiate between someone Jewish and someone non-Jewish – there has never been a hint of that."
Stephen Pollard, the editor of the Jewish Chronicle, told me he had no qualms about publishing the piece. "I have no problem at all with publishing it. I don't agree with [Alderman], it's not my view – it's his."
He rejected the description of Arrigoni as a "peace activist". "He was a member of the ISM, for God's sake. That's not peace activism, that's hard core Palestinian terror."
Neta Golan, an Israeli founder of the ISM, denied the organisation supported terror attacks or backed Hamas. "The ISM supports the avenue of non-violent and popular resistance," she told me. "It is a grassroots group, and we will work with anyone who wants to organise non-violent resistance. The ISM does not have a position on internal Palestinian politics."
She also rejected suggestions that Arrigoni was anti-Semitic. "It was so obvious he wasn't a racist. Absolutely he was not anti-Semitic."
I never met Arrigoni and I don't know what his views (if any) on Jews, as opposed to his views on Israel, were. Attempts to conflate opposition to Israeli policies with anti-Semitism are not new.
Scenes of Palestinian militants handing out sweets to celebrate suicide bombings or other deadly attacks are familiar – and sickening.
Now Alderman's rejoicing in the death of a pro-Palestinian activist seems to me a new and repugnant development.