25 December 2010 | International Solidarity Movement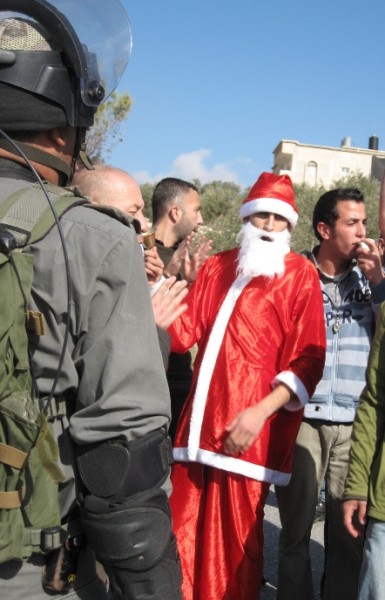 While the media's attention was focused on the Christmas spectacle in Bethlehem and people were celebrating Christmas eve, the village of An Nabi Saleh, located in the Ramallah region and in the direct neighborhood of the illegal settlement Halamish, faced another reality. Yesterday's demonstration was met by excessive violence on behalf of the Israeli military. Several people were injured; three Israeli activists and one Palestinian member of the community got arrested.
Even before the demonstration began, at about 9:00am, several Israeli jeeps entered the village. A 16 year old Palestinian encountering them alone got shot by 12 rubber coated steel bullets, aimed from close range directly at his chest area. He was brought to the hospital in Ramallah, but did not suffer severe injuries.
The demonstration started after the prayer. The demonstrators, the people of An Nabi Saleh and a group of Israeli and International activists, were joined by Santa Claus as they walked down the main road of the village to the junction, chanting slogans. At the junction they were met by the Israeli military and Border Police, who tried to forcefully put an end to the demonstration by hitting demonstrators and using sound bombs.
The demonstrators retreated back into the village, while the shebab engaged in a confrontation with the army that carried on throughout the whole day. The military used sound bombs, excessive amounts of tear gas, and shot rubber bullets: many of them aimed directly at people.
Two people–-a 60 year old villager and his 50 year old wife–-were hit in the head by rubber bullets shot through the window, while inside their house. They were brought to the hospital. Several more demonstrators suffered from the effects of inhaling massive amounts of tear gas. One elderly man had to be treated by an ambulance after tear gas canisters entered his house.
In the chaos caused by the military, three Israeli activists and one Palestinian were arrested. One of the Israelis was released a few hours after being detained, while the other two were kept first in Halamish and later at the Russian compound in Jerusalem. They have been accused of stone-throwing and might face charges.
The 20 year old Palestinian, Allae Tamimi, was transferred to Ofer Military Prison, where he is going to be investigated. He was released from Prison only a short while ago with the condition that he won't participate in any demonstrations, for which he would face a sentence of 6 months in prison. This arrest comes three days after the arrest of Bahaa Tamimi, another member of the community of An Nabi Saleh.
When the day came to a close, Santa Claus had brought only more tear gas and rubber bullets for the villagers of An Nabi Saleh. Merry Christmas!