By Sharon in Gaza
talestotell.wordpress.com
January 4, 6pm – January 5, 5pm
6pm: To Al Awda hospital, run by the Union of Health Work Committees. It normally has a 50 bed capacity but has been stretched to 75. E and Mo interview Ala'a, the medic from Jabalia RC who was injured when Arafa was killed yesterday.
The story goes as follows: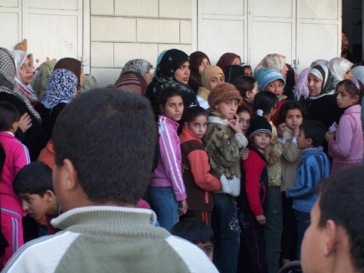 It was about 8.30 am Saturday morning in Jabalia. Five teenagers found themselves under shell attack and tried to get away. Three escaped. One, Tha'er, 19, had his foot blown off. His friend Ali, also 19, tried to pick him up and carry him to safety, but was shot in the head and killed. It took 75- 90 minutes before a Jabalia Red Crescent ambulance could reach them. Medic Arafa, 35, and Ala'a, 22, carried Tha'er to the ambulance, and then went back for Ali's body. As they closed the van door, they were shelled.
Ala'a says "I felt nothing – just that I was flying in the air and then falling." Other ambulances evacuated all. Arafa, who was married with 5 children, had a severe chest wound with most of one lung gone and only survived 2 hours. Ali's head was blown off. Ala'a is now in hospital with severe shrapnel wounds all over, especially chest and legs. Tha'er survived but also now has several lacerations to back and body from shrapel.
Arafa was a teacher for the UN, gave medic training, and volunteered as a medic after being one professionally earlier.
7pm: We arrange to sleep in shifts at Al-Awda hospital. V and I crash. E, A and M hitch a ride with the first RC ambulance that turns up, out to Karmel Adwan hospital, the Red Crescent's second new base since evacuating their centre. The base is a few blankets in a corridor, but there is tea sometimes.
11pm: E comes back to sleep, V and I ride with O's ambulance to Karmel Adwan. O has a scarf wrapped round his knee, he was shot there some years ago and has pain in cold weather. I talking A and Mo into going to back to rest, but fail to convince EJ. The night turns out to be quiet. Unfortunately, I soon understand this is because a) a lot of Jabalia people have run away, and b) Israel is not letting the ambulances collected most of the wounded that do call for help.
2pm: we collect a woman in labour. Back at the hospital, I chat to Om, who is a nurse but volunteers at the Al-Assyria Centre that the Union of Health Work Committees runs. Also to M, in a hospital bed. He is 23, six months married, and made the mistake of standing next to the Jabalia mosque that was bombed two days ago. He is now recovering from abdominal surgery.
Everyone has naps in the ambulances. EJ and I are being called hourly by the BBC to contribute to news bulletins, "live from Gaza".
5am: we hear that there has been a threat to bomb Al Wafa hospital which I understand is a centre for the disabled.
7.15am: we collect a man seriously injured by rocket explosion from a house in Sikha St, Jabalia; I doubt he has more than minutes to live, but he is still alive when we reach the hospital.
9am: An injured woman is having a panic attack. We collect a woman whose home has just been shelled, she is having a panic attack and I am not clear on her injuries. Back at the hospital people are loudly grieving for two recent dead. These may be the nearly dead man my ambulance collected and another I saw arrive, both horribly mangled by rockets and the now-familiar grey colour.
9.30: We hear that Beit Hanoun is almost completely occupied by the Israeli army, as is the nearby small town Zahra which commands the north/south road. The north (us) and the south (F, G, and OJ in Rafah) may now be cut off from each other. We check in by phone, making contingency plans.
10am: Mo's sister calls to tell him his village of Khosa is being shelled; the farmland in the centre which is surrounded by housing. "There's nothing there, just people's homes." he tells us. He says there are now Israeli tanks in the Attatta and Shaimah areas of Beit Lahia. This is 1km inside the border, and 2km away from us at Jabalia. He says tank invasions used to take main roads, but he expects this time they will do what they did in February; bring in bulldozers and go directly through the houses.
He tells us that today Palestinian phones are receiving recorded messages from the army, saying "To the innocent civilians: our war is not with you, but with Hamas. If they don't stop launching rockets, you are all going to be in danger."
11.50: Call to near Gaza beach, turns out to be a mistake. Instead we pick up a family with two little children who are evacuating, sat on the side of the road, worn out from carrying bags. We passed Beit Lahia UNRWA school earlier, it is filling up with refugee families. Like Naher El Bared all over again.
N draws my attention to one more extremely crowded bread queue, and then we discover a young teenage boy in the queue has collapsed from exhaustion; the medics treat him to the extent they can.
4pm: F calls to say they've heard Al Awda hospital has been shelled. I ring EJ. She says a structure immediately beside it received two shells; one person was injured, the man who lent her his jacket last night. He has shrapnel to the head and she says he isn't looking too good. A apparently caught the shelling on his camera. We wonder if we should head back there to be again with Jabalia RC instead of Gaza city RC. But Gaza city lost 3 of their medics yesterday.
Latest:
There have been two separate reports about Israeli attacks on funeral tents. We are trying to confirm deaths and injuries for one. The second of the funerals attacked was medic Arafa's yesterday afternoon; 5 people were injured.
We have also had reports that in the Zaytoun area two days ago, Israeli soliders rounded up a group of people into two houses; women and children into one, men into the other, where they were kept for two days. Then this morning at 11am Israeli forces shelled the houses. We have heard the number of deaths as between 7 and 20. One was a seven year old boy whose father was interviewed on TV while holding his body. We are trying to find out further details. It is getting very hard to keep up with this insanity.
We asked the Jabalia Red Crescent admin person how much of the emergency calls Israel is not letting them go to. These are in areas where co-ordination must be made with the invading forces via the Red Cross to enter. He said they are not being allowed to attend to about 80% of the calls from the north, covering the Beit Lahia, Beit Hanoun, and Jabalia area.
Shall I repeat that?
80%.
Eight of ten people calling for help are being prevented from receiving it.