Friday, September 26, 2008
On the 26th September 2008 after the Friday prayer, the residents of Bil'in, joined by international and Israeli solidarity activists, held a demonstration against the apartheid wall and the confiscation of their land. The protesters carried banners for the 8th anniversary of the Al-Aqsa intifada. They called for a third Intifada to remove the wall, stop settlement construction, remove checkpoints, open roads and stop the confiscation of Palestinian land. They also called to break Israeli racism and for the freedom of Palestinian detainees.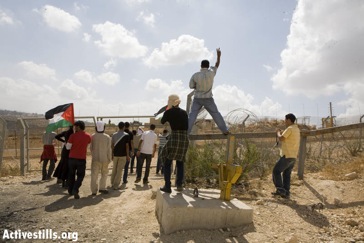 Photos courtesy of Activestills
The protesters marched towards the wall carrying Palestinian flags and banners calling for an end to the Israeli occupation and for Palestinian national unity.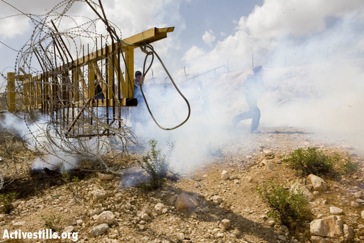 When protesters tried to get close to the gate to reach the village's confiscated land behind it, the Israeli army fired tear-gas cannisters and sound grenades causing many to need treatment for tear-gas inhalation. Two Palestinian protesters and a Scottish solidarity activist were shot with tear-gas cannisters and were taken to Sheikh Zaide hospital in Ramallah.