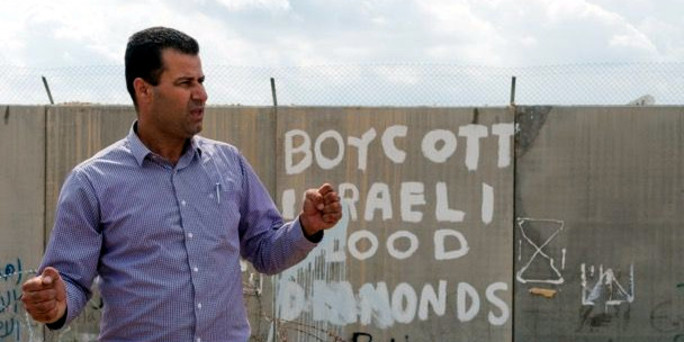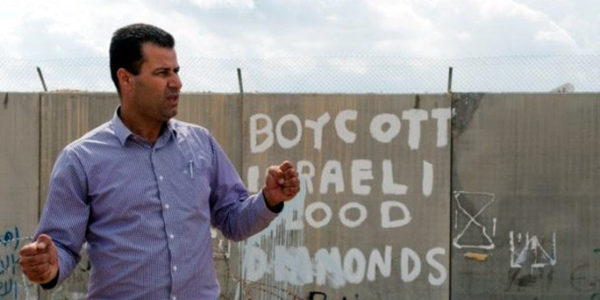 Tomorrow Abdullah Abu Rahmah will be taken once again in front of a military judge. He is being accused of "Causing damage to a military installation," referring to Israel's illegal Annexation barrier built on his village's land.
Abdullah stated, "The occupation has used many methods including killing, injuring, and raiding our homes in order to stop us from exercising our right to protest and struggle against the occupation. But we will not stop struggling until the occupation is dismantled."
Abdullah, a leading non violent activist and human rights defender has has been held in military prison since the occupation forces raided his village, Bil'in, and took him from his home in the middle of the night on the 19th of November, 2017. Abdullah was handcuffed, gagged and his hand were tied to the roof of the jeep. Since then, two military judges have conceded that Abdullah is not dangerous and should be released on certain conditions, but the military prosecution is intent on making sure he remains in detention, and has continued to hold him without regard to due process. Tomorrow's hearing will be to determine if Abdullah has broken conditions set for his release by a military judge after his arrest from  the Alwada Cycling Marathon on Nakba Day, the 13th of May, 2016.
Abdullah has been arrested and injured many times in the past for his role in promoting non-violent creative protest in his own village of Bil'in and across the West bank. In 2010, Abdallah served 16 months in prison after being convicted on charges of "incitement" and "organizing and participating in an illegal demonstration." Abdullah continued to advocate for nonviolent action and Human rights from prison.
In addition to Abdullah, 16 year old Ahmad Abu Rahmah, as well as Ashraf Abu Rahmah, another prominent Bil'in activist, were also taken and are still being held by the military. Ahmad Abu Rahmah was arrested with Abdullah in the raid and accused of throwing stones, as was Ashraf, following his arrest on the 14th of November 2017. Ashraf's two siblings, Basem and Jawaher, were both killed in separate incidents while nonviolently protesting the illegal wall constructed on their land.
Update, December 13, 2017: Abdul Khaliq Iyad Bernat, Hamza Ghazi Al Khatib, and Malik Yassin were arrested today in Bil'n, and Ahmed Adeeb Abu Rahma was arrested yesterday. All four are in their final year of high school. They will join Abdullah, Ashraf, and Ahmad Abu Rahmah in military prison.
Update, December 14, 2017: Abdullah Abu Rahmah has been released from Israeli military prison. However, the four teenagers taken in the past two days – Abdul, Hamza, Malik, and Ahmed – remain in military custody. They were sent back to the investigation unit yesterday ahead of their court appearance at Ofer Military Court.