To view original article, published by Maan on the 1st August, click here
Dozens of residents and a Palestinian journalist suffered breathing problems after inhaling tear gas fired on them by Israeli soldiers during a peaceful protest in the village of Bil'in on Friday afternoon.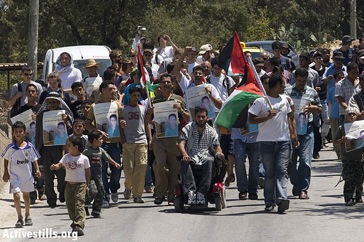 Photos courtesy of Activestills
The protest is a weekly event against the construction of the separation wall which cuts the village off from its ancestral land.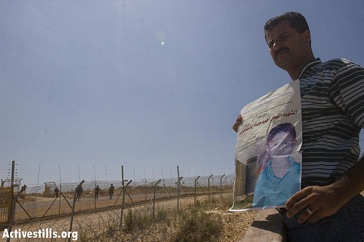 After Friday noon prayers, Bil'in residents took to the streets alongside international and Israeli peace activists, carrying Palestinian flags and banners denouncing Israeli policies such as construction of the wall, land confiscation, settlement building, road closures, the siege of Palestinian cities, and the killing of civilians, especially children. Other slogans condemned shooting detainees while they were hand-cuffed and blind-folded, as Israeli forces were recently filmed doing in the nearby village of Nil'in.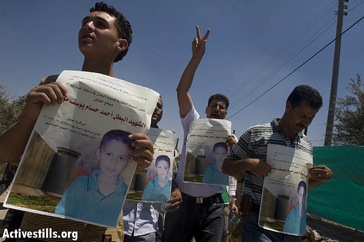 Demonstrators chanted slogans calling for national unity as they made their way to the wall in an attempt to cross into the village lands. The group carried with them a picture of Ahmad Husam Musa, a boy who was killed by the Israeli army in the village of Ni'lin on Tuesday while participating in a demonstration.
Israeli soldiers attacked the demonstration, firing tear gas bombs and rubber-coated metal bullets on the crowd. Dozens were treated for tear gas inhalation, including Imad Burnat, a Palestinian journalist.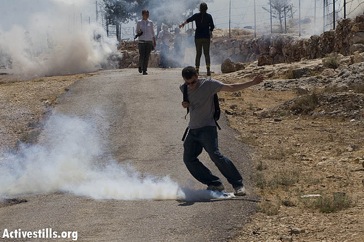 On Wednesday, a group of Italians visited the wall in the village and listened to a detailed presentation on the wall and its deleterious affects on the village by the Popular Committee Against the Wall. The Italian group tried to access the village lands behind the wall, but Israeli soldiers prevented them from doing so. The delegation headed to Ni'lin, a village northeast of Bil'in, where they hoped to extend condolences to the family of the child killed Tuesday. Israeli soldiers, however, prevented them from entering the village.
The Popular Committee Against the Wall in Bil'in denounced the violent Israeli attacks on the demonstrators.
On 4 September 2007, the Supreme Court ordered the Israeli authorities to redraw the path of the wall because the current route was deemed "highly prejudicial" to the villagers of Bil'in. In July a new route for the wall was submitted to Israeli authorities. The new plan will return some of the agricultural area that has been destroyed by the construction process, but the new route will cut into a second agricultural sector. According to the group's lawyer, the new route will actually take more land away from the town than the original.
The town has objected to the plan and is awaiting a court hearing scheduled for 4 August.