Blake Murphy, an American activist from Bedford, MA, working in the West Bank, was beaten and arrested by Israeli army and police forces on Friday 14th March 2008. He has had to face a series of evidently false charges from the Israeli authorities due to his work supporting non-violent resistance to the occupation of Palestine. He was deported to the United States on Friday 21st March after a week in detention. While in custody, Blake has had many of his legal rights abused by the Israeli authorities.
Blake was arrested while attending the weekly demonstration in the village of Bi'lin, where the separation wall annexes much of the Palestinians' land. Blake was singled out for arrest during the demonstration by the Israeli forces. He was violently assaulted and pepper sprayed before being taken away and subsequently arrested. Blake was then beaten and abused by the soldiers while handcuffed.
Upon arriving at the detention center, after being beaten and sprayed in the eyes with mace, Blake was interrogated while still recovering from the effects of the mace. The police only offered him water to rinse the mace from his eyes, which only makes the effects of the mace worse. There have been days when Blake has been given only bread as a meal.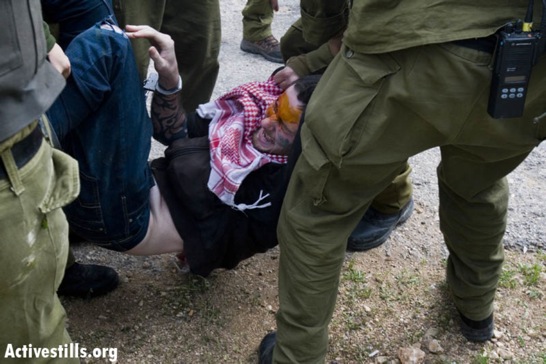 Injuries inflicted by Israeli solders on Blake Murphy were severe enough that he was taken to the hospital. He appeared in court on the 15th of March, where the judge prolonged his detention until the 18th March. He was told that he would have to reappear in court on the 18th. Blake was woken up on the 18th at 5:00am and taken from the detention center to the court. He was held there for 8 hours, three hours past the time he was told he would appear, locked in a room with only 8 chairs and 15 other people. At the end of this long day, Blake was informed that a mistake had been made and there had never been an appearance scheduled for him on that day. While in custody, Blake has been denied a translator in court, been brought before a judge without his lawyer being informed, and also been made to appear for a trial that was cancelled without him being informed.
Blake Murphy had been working for the last 8 and a half months in the Palestinian Occupied Territories with the International Solidarity Movement (ISM). For over 6 months he was working as the full-time media coordinator for the ISM and was therefore highly involved in supporting Palestinian non-violent resistance towards the occupation. It is for this reason that he was targeted by the Israeli authorities and has undergone such inhumane treatment.