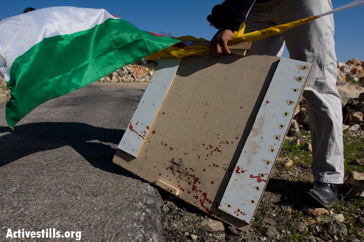 On Friday, January 18th, around a hundred Palestinian, Israeli, and international activists gathered for the weekly demonstration against the Annexation Wall in the village of Bil'in.
The demonstration took place this week after horrifying events in Gaza which have left 36 people dead and scores injured, many seriously. Activists had stickers which read "Gaza 3ala Bali (Gaza On My Mind)" placed on their shirts, arms, and some even on their foreheads.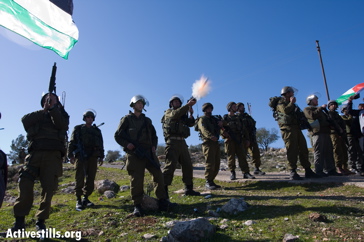 Activists walked towards the soldiers placed at the gate in the Annexation Wall. Some reached the soldiers and chanted, while others hung back along the road. Soldiers began shooting tear gas and rubber-coated steel bullets immediately, hitting on man in the face with a tear gas cannister. As he was taken away bleeding by the medics, soldiers began detaining people.
Two internationals and two Palestinians were violently detained by the soldiers. In the accompanying video, soldiers can be seen assaulting peaceful protesters Two and a half minutes into the video one can see the soldiers capture one Palestinian activist, who tosses away the flag he was holding, one soldier holding him then unzips his pants and does something else unclear.
The demonstration lasted over an hour, activists walked back to the village but twice were followed by soldiers attempting to invade.