Today saw a large demonstration in Bil'in against the apartheid wall attended by members of the French Parliament. 200 Palestinian, Israeli and international demonstrators marched from the village down to the apartheid wall, where the procession was met by the Israeli army. Extreme force was used to try and push the demonstration back to the village. Despite facing a barrage of tear gas, rubber bullets and sound bombs the protestors managed to stay in the area close to the apartheid wall for about an hour and a half. Four People, two Palestinians, one Israeli and an American, were detained by the army, but were later released.
The apartheid wall annexes about 60% of Bil'ins land. The weekly protest was started almost three years ago and has resulted in the supreme court ordering the wall be moved west to give Bil'in back 250 acres of land. However, the protest continues as the wall is still standing and the illegal settlement of Mattiyahu East, which was built on seized village land, was recently legitamised by the same court.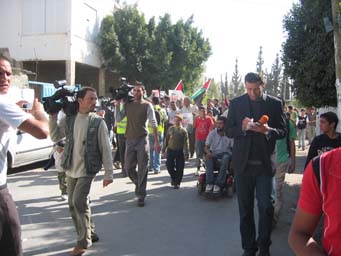 In the course of 200 demonstrations 800 people have been injured. An Israeli attorney and a Bil'in resident both suffered permanent brain damage from rubber-coated steel bullets shot from close range. Another Palestinian lost sight in one eye. 49 Bil'in residents, including some protest leaders have been arrested, and have even had their houses raided by the army. Some people have spent months in prison.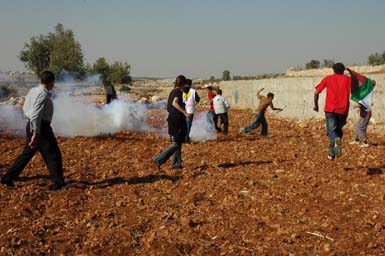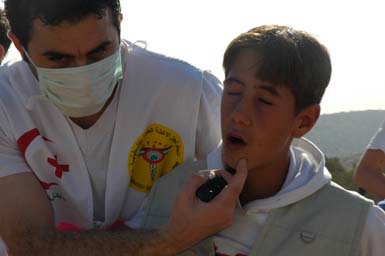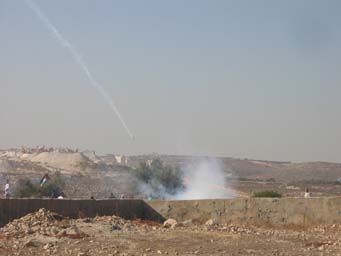 For a link to Skip Schiels Photos of the demonstration click here