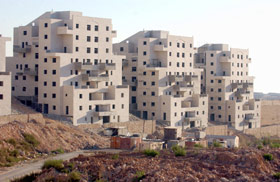 update:
The Goliath real Estate Company Heftsiba who is the company (together with Canadian company Green Park) that was building the settlement of Matityahu Mizrah as well as the settlement of Beitar elite and settlements in occupied East Jerusalem has started showing signs of bankruptcy. The Haredi population who have bought apartments from the company broke into the unfinished apartments in various building sights including Matityahu East. Heftsiba has existed since 1968 and executes 10% of Israel's real estate. In Israeli channel's 2 news a financial expert explained that the reason for the companies downfall was the stop work order and the inability to sell more of the apartments in Matityahu east. He called it "Modiin Elite next to Bilin". It is still not clear how this will effect the continuation of the building of the settlement, the ban on Building, or the courts decision. But in the struggle of who would outlast the other between Heftsiba and the Bil'in villagers. Bil'in's resistance has endured!.
Setters break Supreme Court ban on populating Matityahu Mizrah
FOR IMMEDIATE RELEASE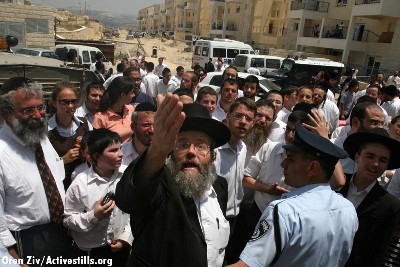 Last night, hundreds of Israeli settlers occupied buildings illegally erected on land belonging to the Palestinian village of Bil'in, despite an order from the Israeli Supreme Court forbidding them to do so. The takeover came amidst rumors relating to the imminent bankruptcy of real estate giant Heftsiba.
Earlier today, Mohammad Khatib, a member of Bil'in's popular committee against the wall and settlements stated that: "The settlers are above the law. The organized takeover of the Matityahu Mizrah settlement is in defiance of the Supreme Court's ban, it is a continuation of the Modi'in Elite local council's policy to work illegally and create facts on the ground. This time Modi'in Elite's local council are taking advantage of Heftsiba's rumoured bankruptcy to commit yet another crime intended to pressure the Israeli Supreme Court."
In January 2006, the Israeli Supreme Court issued a temporary order in one appeal case (143/06), freezing the building and population of the Matityahu East settlement after the illegal building of 42 residential buildings. Twenty of the buildings were built with no permit and 22 others with permits illegally issued by the Modiin Elite council.
Khatib reports that Yaacov Gutterman, head of the Modi'in Elite local council and the man who, according to the civil administration, is responsible for "large scale illegal building" in the Matityahu East settlement is on site distributing food to the invading settlers. According to a report in today's Ha'aretz Metityahu Mizrah is the largest West Bank settlement project that is illegal under Israeli law.
The route of the wall in Bil'in is designed not only to protect Matityahu Mizrah but according to a master plan allowing for future expansion. For more details see B'tselem Report "Under the Guise of Security: Routing the Separation Barrier to Enable Israeli Settlement Expansion in the West Bank".