by the ISM media team, March 9th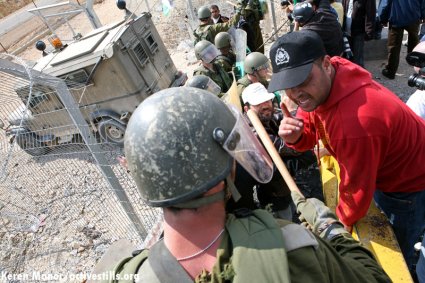 Two peaceful protesters today paid the price for standing in solidarity with the villagers of Bilin to protest the theft of their land when they were attacked and had to be carried to an ambulance for evacuation. Ben received a blow to the forehead from a rifle butt whilst a sound bomb was thrown at Jonathan's foot, which exploded on his shoe leaving him unable to walk.
After the last two large demos, today's march to the wall could be seen as an anti-climax, but the villagers of Bil'in were determined to maintain the momentum of their struggle and were not disheartened by the turn-out of around a hundred.
As has been the pattern in recent weeks soldiers reacted aggressively to the peaceful chanting and flag waving, and when a few stray stones came their way were quick to try and disperse the crowd with tear gas and sound grenades.
Large numbers of soldiers poured through the gate to remove those who remained and many were grabbed, pushed over and dragged along the ground merely for standing there.
Unable to control themselves the soldiers continued to use sound bombs and batons against the protesters. Iyad Burnat, a member of the popular committee in Bil'in who was hospitalised at the demo two weeks ago, was again targetted and beaten on his body. Eleven other protesters were shot with rubber bullets.
*************************
اصابة ستة عشر متظاهرا في مسيرة بلعين الأسبوعية
الجمعة \9\3\2007
خرج المتظاهرون اليوم في قرية بلعين بعد صلاة الجمعة في مسيرة حاشدة توجهوا فيها نحو جدار الفصل العنصري ،وقد تزامنت هذه الفعالية مع مناسبة يوم المرأة العالمي ،مما دفع الى مشاركة نساء القرية فيها تعبيرا عن رفضهن للجدار والإستيطان والاحتلال ،وقد رفعن اليافطات التي تعبر عن ذلك ،بالاضافة إلى يافطات أخرى تعبر عن انهن أكثر الفئات تضررا ، فأبناؤهن وأزواجهن وإخوانهن من يتعرضون للقتل والجرح والإعتقال ،أضف إلى أنهن يعرضن أنفسهن لنفس الخطر أثناء مشاركتهن ، وهن اللواتي يعملن في الحقول والزراعة بالدرجة الأولى ، وبناء الجدار الذي يفصل بينهن وبين أرضهن يحرمهن من أبسط حقوقهن في العمل فيها .
وقد شارك في هذه المظاهرة مجموعة من المتضامنين الدوليين والإسرائيليين بالإضافة الى وفد من التوجيه السياسي والوطني وعلى رأسهم نايف سويطات مفوض التوجيه الوطني في الضفة الغربية ومحمد الفقيه مسؤول ملف الجدار في التوجيه الوطني،وقد كانت هذه المشاركة بناء على دعوة العميد بلال النتشة المفوض السياسي للمحافظات الشمالية ، من ناحية أخرى شاركت مجموعة من طلبة بير زيت في هذه المسيرة .
وقد جاب المتظاهرون شوارع القرية وهم يهتفون الهتافات المنددة بالاحتلال حتى وصلوا إلى بوابة الجدار في الجهة الغربية من القرية حيث يتمركز الجيش ،الذي حال دون السماح لهم بالعبور من البوابة ،مما أدى إلى نشوب مشادات بينهم ،استخدم خلالها الجيش قنابل الصوت والغاز والرصاص المعدني المغلف بالمطاط ،مما أدى إلى اصابة ستة عشر متظاهرا بينهم متضامنان إسرائيليان وهم :جونثان بولاك ،بن رونين ،أديب أحمد حسن أبو رحمة ، اياد محمد ياسين برناط ، وئام محمدعلي ناصر وشقيقه فادي ، حمزة عبد الهادي سمارة ، عمرو هشام ناصر ، سليمان خالد خطاب ، سمير سليمان ياسين ،أدهم محمود عيسى أبو رحمة ، عمر عادل الخطيب ، يوسف حسن، باسل منصور،نايف غازي الخطيب ،جاسر ماهر اشعل .
لمزيد من المعلومات مراجعة:
عبدالله أبورحمة – منسق اللجنة الشعبية لمقاومة الجدار والإستيطان في بلعين
0599107069 أو0547258210 أو022489043