by the ISM media team, January 26th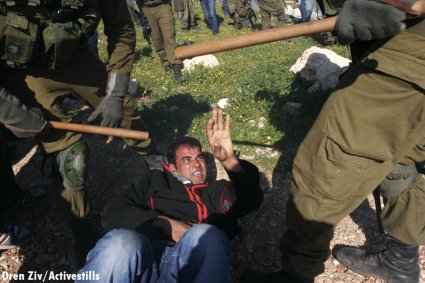 Today's sun-drenched demonstration in Bil'in was marked by the usual Occupation violence as the media and peaceful protesters alike were frequently forced to run for cover and attacked as they were doing so.
The theme of today's weekly demo was the ongoing annexation of the land around the Al Aqsa mosque in Jerusalem for Israeli colonies. Banners bore messages condemning the takeover of this holy Muslim site. Soon after the marchers reached the gate in the wall and started chanting some children threw stones at the soldiers who responded by shooting rubber bullets at them.
After the stone throwing soon stopped many soldiers came through the gate and attempted to disperse the peaceful demonstrators and media gathered with them. As well as the normal orange sound bombs the IOF experimented with a black metal sound bomb that explodes in the air. An international photographer was deafened by a sound bomb exploding beside him and hadn't recovered his hearing in one ear by the end of the demo. Children started throwing stones at the soldiers again and one demonstrator was hit in the leg with a stone.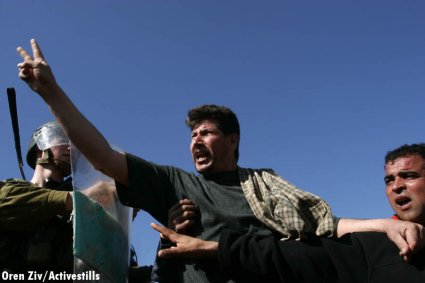 When it was clear the protesters weren't going to disperse the IOF started grabbing hold of and pushing to the ground villagers telling them to leave. When the demonstration was over the IOF pursued those retreating as usual with sound bombs and tear gas, and forced them to walk through the crossfire of stone throwing and military violence. As in previous weeks the IOF refused to let the protesters walk around out of harm's way, effectively using them as human shields.
One Palestinian was shot in the head with a sound grenade suffering mild concussion and had his head bandaged. Another Palestinian was shot in the back with a tear gas cannister and was also treated on the spot. Altogether eight people suffered injuries.