by the ISM media team, November 10th
Bil'in village today mourned the atrocities in Gaza as well as commemorating the second anniversary of the death of Yasser Arafat. The villagers, accompanied by Israeli and international supporters, marched from the mosque led by a youth marching band, carrying a funeral tent and wearing black ribbons around their foreheads and across their mouths to symbolize the silence of the international community at the atrocities in Gaza. As the march reached the edge of the village soldiers could be seen in the olive groves beside the road.
The 150-strong demonstration marched to a gate in the fence and held a ceremony to commemorate the Gaza victims and Yasser Arafat. On the other side of the fence the usual array of Israeli military and security looked on. Most protestors then marched down the hill alongside the series of razor wire and metal fences and began to dismantle the illegal razor wire.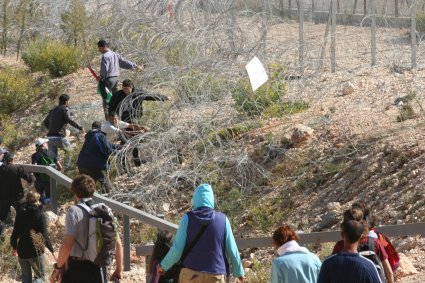 The Israeli military responded with multiple rounds of tear gas and sound genades and started firing rubber bullets at the protestors.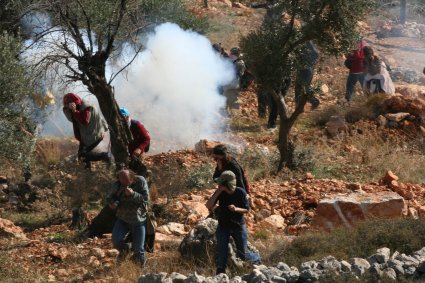 One international was hit in the arm and then face with the same rubber bullet. This military violence didn't deter the crowd which managed to create a bridge over the razor wire using olive branches. Reinforcements quickly arrived to deal with this 'threat'.
Once on the other side the demonstrators sat down and started chanting anti-Occupation slogans before deciding to disperse to avoid further Occupation violence.
After the demonstration the IOF invaded the village, shooting 8 of the village youth with rubber bullets, and hitting one teenager with shrapnel from live ammunition in the hand. Two children had to be hospitalised. Soldiers fired tear gas into and shortly afterwards raided the house of Ahmad Hassan and beat 3 members of his family. This arbitrary raid is yet another example of the collective punishment meted out by the Israeli military in their unsuccessful attempt to quench the spirit of resistance that refuses to die in Bil'in.
Injuries:
Basel Naem Burnat – shrapnel in hand from live ammo
Nour Yusef Samara – rubber bullet in back of the head, hospitalised
Saji Burnat – rubber bullet
Basel Mansour – rubber bullet
Khalid Shawkat – rubber bullet
Ashraf Jammal – rubber bullet
Yasin Mohammed – rubber bullet
Wi'am Mohammed – rubber bullet
Mohammed Ahmad Hassan – rubber bullet
Sam from UK – hit in arm and face with rubber bullet