by ISM media team, November 3rd
For the second week in a row the Israeli military have shot a demonstrator with live ammunition at the Palestinian village of Bil'in. This week was the turn of 69-year old Frenchman José Jeandrot, a volunteer in the olive harvest as part of a delegation from a French solidarity group. He was shot in the wrist and received treatment in Sheikh Zaid hospital in Ramallah. José was shot by Israeli forces that were still in the village after the demonstration ended.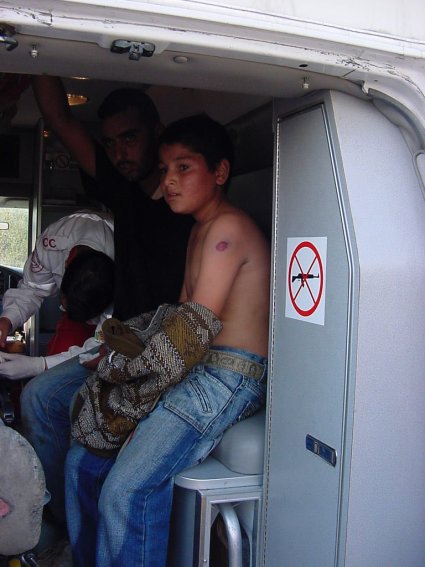 On their way back to the village the demonstrators encountered soldiers facing resistance from the village youth who threw stones at the invaders. As the soldiers were withdrawing they started firing rubber bullets and live ammunition at the youth. In addition to José's injury, 8 other people were shot with rubber bullets and one woman broke her leg while running away from the soldiers.
As the village youth were trying to repel a military jeep that invaded the village with stones, Israeli soldiers fired live ammunition at them and drove up a driveway where onlookers were gathered. The soldiers then got out of their jeep and fired at the youth. The onlookers were standing around a corner and José, who was filming the incursion, was standing at least 50m from the village youth when he was hit in the wrist.
Earlier on Bil'in villagers had been joined by international and Israeli supporters as they marched to the Israeli annexation barrier, which has ceased over 50% of the village land. The marchers managed to cross one of the fences and marched to the gate where they demanded to be let through to reach the olive groves. Many of the internationals present, including José, are accompanying farmers to their olive groves in areas where they face violence and intimidation from Israeli settlers and soldiers. The protest passed off peacefully despite the military's use of tear gas and sound bombs against the protesters. When this violence failed to intimidate the marchers the soldiers started violently pushing and shoving them. Towards the end of the demonstration some border policemen violently pushed protesters returning to the village.
Injuries
Amjad Abu Rahme, 11 – shot with a rubber bullet in the shoulder
Amer Nasser, 22 – shot with a rubber bullet in the shoulder
Ibrahim Burnat, 25 – shot with a rubber bullet in the hand
Ashraf Khatib, 24 – shot with a rubber bullet in the leg
Bader Khatib, 35 – shot with a rubber bullet in the leg
Sharar Mansour, 22 – shot with a rubber bullet in the leg
Wael Nasser, 31 – shot with a rubber bullet in the neck
Leila Zoada, 32 – leg broken while running away from soldiers
For more information contact:
Abdullah Abu Rahme: 0547258210
ISM media office: 02 2971824, 0599943157
José – 0525169105