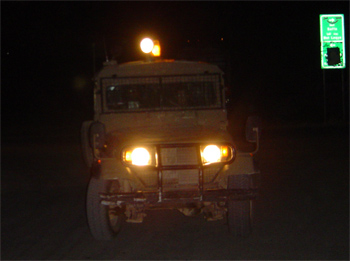 Photo from a previous nightime invasion into the village, 16th April 2006.
FOR IMMEDIATE RELEASE
UPDATE, 2pm: As this release was in the process of being published, the Israeli army entered the village again. It is currently unknown if they will capture more villagers or not. More details to follow.
UPDATE, 2.10pm: The remaining three captives have now been released. It is sitll unknow why they were captured.
Last night in Bil'in the Palestinian village near Ramallah that has become a symbol of non-violent resistance to the apartheid wall, the Israeli army invaded the village at around 2am and kidnapped eight villagers. Five of the villagers were later released, but three remain in captivity in the Ofer military prison, west of Ramallah. The kidnappings were carried out on the western side of the village near Wajee's house.
The names and ages of those kidnapped are:
Ferhan Burnat (24)
Th'er Burnat (19)
Mohammed Wajee Burnart (17)
Mohammed was released two weeks ago from a previous four month captivity by the Israelis. The Israeli army gave no reasons for last night's kidnappings and it is currently unknown why they are being held.
For more information:
Bil'in Popular Committee Members:
Abdullah Abu-Rahme: 054 725 8210
Mohammed Katib: 054 5573285
Iyad Burnat: 054 784 7942
ISM Media office: 02 297 1824 or 0599 943 157