To see a video of the demonstration click here.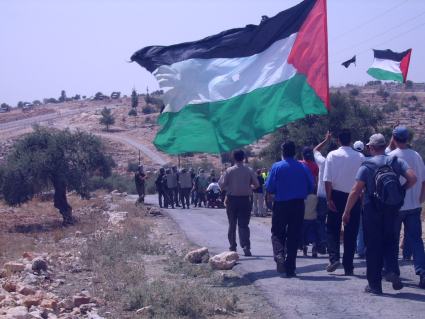 by an ISM Media office volunteer
At the weekly demo in Bil'in today Occupation forces once again lashed out at peaceful protesters. As the 100-strong march from the mosque reached the edge of the village the IOF blocked the road and, after announcing the area was a closed military zone on a megaphone, proceeded to beat those who didn't withdraw with batons. It is the habitual practice of the Israeli military to declare as "closed military zones" areas that Palestinian non-violent demonstrations are taking place.
Undeterred by such violence the villagers tried to continue on their way to the illegal Wall but the IOF brought up reinforcements who chased and beat protesters on the arms and legs. They also fired large amounts of tear gas today. Several people were injured with some needing treatment from the ambulance for arm and leg injuries: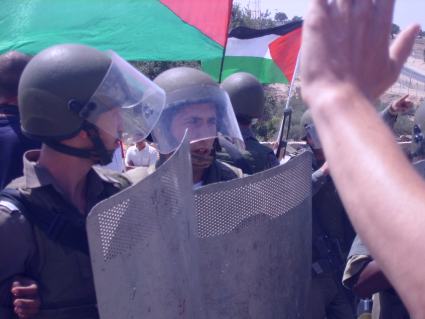 Abdullah Abu Rahme, Popular Committee Member from Bil'in – hand and wrist, needed bandage.
Abid Abu Rahme
Yusef Karaje
Eyal Birnat
Abdul Fateh
Mansour Mansour
Israeli activist injuries – Koby, Neil, Jonathan, Aaron, Sahar, Joval and Nir Shalev whose arm was broken.
Chris – UK
Lina – Germany
Sean – Austria
Iman – US