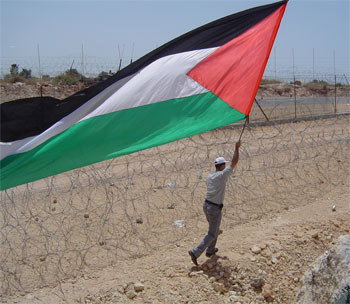 photo by AP
Today in Bil'in over 150 Palestinians, Israelis and internationals gathered in Bil'in to celebrate a wedding ceremony as part of a protest against Israel's Apartheid Wall at the construction site in the village of Bil'in. Twenty-six Palestinians and international activists were injured, including the bride, when Israeli border police broke up the celebration.
The bride, Iman, and groom, Mansour Mansour, organized with the popular committee of Bil'in to hold the wedding ceremony in Bil'in as a symbol that life and love must go on in the face of occupation. They planned to hold the wedding among the olive trees, but the army stopped them from reaching the site because they were not allowed past the gate in the Wall.
Dressed in a suit and a white wedding dress, the couple followed by their procession made its way down the road to the gate where soldiers waited Drums were played, people clapped and women ululated as men danced around the couple, draped in a Palestinian flag.
The soldiers erupted with excessive violence after a few rocks were thrown at the Border Police jeeps. They threw many sound bombs into the crowd and brutally beat protestors in reach. The bride was hit in the face, across the right jaw with a baton and afterward dragged back in a choke hold, her dress stained with dirt. A crowd of people surrounded them, sitting down and shielding the couple with their bodies.
Yosi, an Israeli activist, was severely beaten and immobile. He was forced to wait an hour to be evacuated by the ambulance because Border Police blocked the way with their jeeps, not allowing the ambulance to pass.
They invaded the village with three jeeps and chased after retreating protestors firing many rounds of rubber bullets, sound grenades and tear gas directly them and children and villagers who were not participating.
The first round of injuries were from sound bombs:
Fernanado (35, Euskalaria)—bruising to his right thigh
Koldo (32, Euskalaria)—ruptured skin and bruising to his right hip
Rojay Mohammed (press)—beaten after being injured by a sound bomb; afterward the soldiers broke his camera.
Several injuries were sustained from the batons resulting in welts, bruises
and bumps—some several inches long leaving a few with difficulty walking:
Martin (24, Sweden)—bruising on his legs
Ashraf (22, Tulkarem)—bruising to his legs
Sean (20, Ireland)—multiple bruises to his arms and legs
Shees (23, US)—knees and legs beaten
Waji (50, Bil'in)—right arm and hand beaten
Elad (31, Tel Aviv)—knees and hands beaten and bruised
Woody (27, US)—right arm and left leg beaten
Allen (25, Scotland)—severe bruising to his right arm
Mohammed (35, Biddo)—severe bruising to his legs and knees
Amna (US)—legs and arms beaten
Falah Abu Rahma (30, Bil'in)
Megan (23, US)—hit with baton
Yosi (19, Tel Aviv)—knocked unconscious for a brief time
Othman Mansour (45, Bil'in)—needed to be carried to the village.
In addition the soldiers used rubber bullets which hit a few people:
Yasin Farras (14, Bil'in)—in his leg
Ashraf (22, Tulkarem)—in his back
Unnamed woman (36, Europe)—to the back of her head.
This lasted over an hour—the village was invaded and the people staying strong at the gate and inside, not using violence or force. The group of comrades joined back together and assisted the ambulance in reaching the injured only after the local committee announced that the demonstration was over asked us to leave.
Several were taken to the hospital, and those left behind treated their wounds with ice and water.