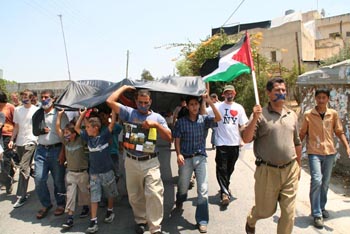 Today, July 21, 2006, the people of Bil'in marched in silence to the Apartheid Wall with the support of Israelis and internationals. The weekly march turned into a mourner's procession as two hundred and fifty demonstrators carried a 20 meter long black flag as a symbol of the over 425 Palestinians and Lebanese killed in recent weeks. They also carried posters with the message "Is this the world we want for our children?". To download a poster for printing and posting click here For PDF.
The demonstrators gathered in front of the Wall and held a moment of silence and prayer for those killed in the Gaza Strip, Lebanon, and the West Bank. The normal celebratory tone of the demonstration was replaced with one of somberness and grief. After the moment of silence the procession marched back to Bil'in without any violent response from the Israeli army.
Mohammed Al Khateeb of the Popular Committee of Bil'in stated, "We are protesting against the Israeli military aggression that targets innocent civilians and infrastructure". He explained the tape that many people wore over their mouths, "We are against the Arab and International apathy and silence towards the ongoing Israeli violations of human rights".
Al Khateeb also called on the Palestinian, Israeli, and international peace activists to continue to protest, in Palestine, in Israel, and around the world, against the Israeli attacks and violations.
After the demonstration Israelis and internationals joined people of Bil'in in a discussion about the non-violent joint struggle in Bil'in and new strategies of working together and resisting. Israelis and internationals also took posters to place in Israel and to send abroad.