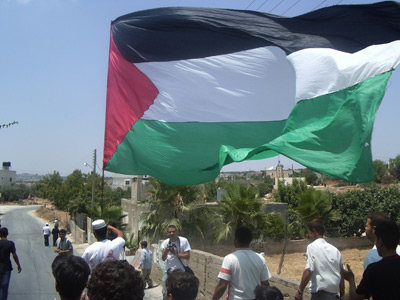 by an ISM activist in Bil'in
Friday 30th June: We walked down the Bil'in road to where the soldiers stood waiting behind two jeeps blocking the gate. The road that runs behind it leads to a settlement built down the other side of the hill. The village has lost many acres of land to these settlements, and to prevent the further theft of land, have built an outpost where international and Israeli supporters of the village take turns staying and keeping watch.
The Popular Committee Against the Wall of Bil'in decides on a weekly theme for the demonstration, to highlight different issues of the Occupation. This week has seen heightened violence toward Palestinians from the Israeli military in the West Bank as well as Gaza, and so the theme for this demonstration was to draw attention to the killings of Palestinians by several activists donning the orange hoods which are worn by those being executed.
There were chants and proclamations of our right to be there and our coming in a spirit of non-violence. Shortly afterward we were asked by the people of Bil'in to move our group up the hill. Soon after, a few boys threw rocks at one of the jeeps. The soldiers responded with a heavy round of sound bombs and rubber bullets. There were two injuries from the shrapnel: Adib Abu Rahme, 54, of Bil'in was hit in his right eye. Brendan, a young man from France, suffered cuts on his lower left arm. Three jeeps entered the village, chasing the people down the road. The remaining group passed through the gate, just on the other side of the fence. At this point, two Israelis were arrested; the soldiers were rough on them. The first was a man: Shai, and then a woman, Oshra.
The gate was pushed open by a couple of boys, and our group standing together blocked the army from coming through. The soldiers pushed through the line of people with jeeps, and used rubber bullets further into the village. As we walked back toward town, tear gas was shot into the air. Two men were injured here – Ahmed, 55, and Amer Hisham, 22, of Bil'in suffered from rubber bullet shots to their backs.
After the demonstration ended, the soldiers continued to occupy the village, shooting rubber bullets and tear gas at locals who stayed behind. The smell of gas lingered in the air almost until the time we left.