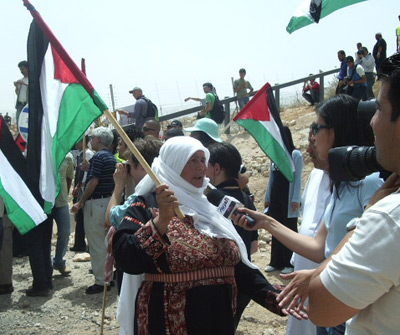 This week's demonstration a call for greater Palestinian unity against the occupation. It was also a recognition of the 39th anniversary of al-Naksa, "the great disappointment" which marked the beginning of Israel's occupation of the West Bank, Gaza strip and the Golan Heights in 1967.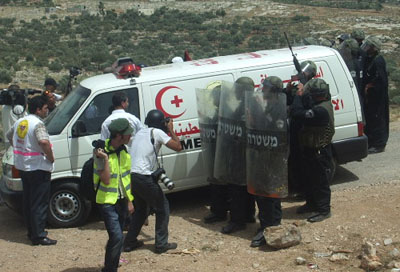 About 300 demonstrators carrying Palestinian flags marched to the wall together. Among them were Palestinian Legislative Council members Mustafa Bargouthi and Kais Abu Leyla; al-Quds University President Sari Nusaybah; Knesset member, Muhammed Baraka, and Israeli supporters from Anarchists Against the Wall, Gush Shalom (including Uri Avnery) and other Israeli anti-occupation groups. International supporters from ISM were also present.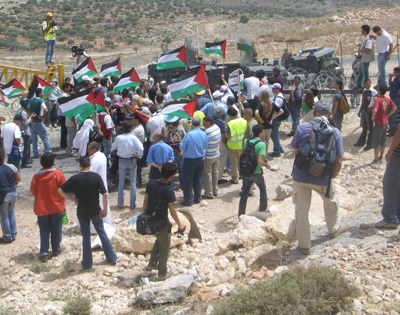 As they approached the gate in the annexation barrier, demonstrators found that Israeli soldiers had positioned themselves behind journalists, as well as in front of the gate, surrounding them. Some of the demonstrators tried to non-violently cross the gate. Soldiers attacked the demonstrators from all sides with sound bombs and serious beatings. The soldiers then rushed forward, violently pushing everyone back causing widespread injuries. The soldiers then proceeded to fire tear gas at Palestinians and internationals attempting to extinguish a fire which the explosion from a sound bomb had started in the olive groves.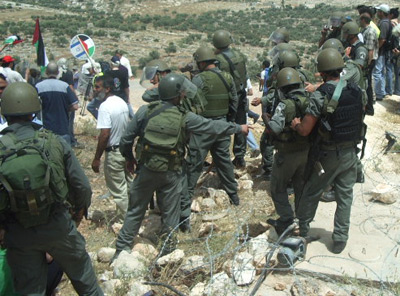 Amongst those known to be badly injured by beatings and evacuated in ambulances so far are: Mohammed Mansour- who was hit with two rubber bullets in the arm and a sound bomb in his abdomen, Mohammed saw a soldier aiming for his head from close range and covered his eyes with his arm, Akram al-Katib- who was beaten, Abdullah Abu Rahme- from the Popular Committee, was beaten as well as a woman named Yahia Abullah Yasin. Two Israelis were also seriously injured. And there were many minor injuries from beatings.