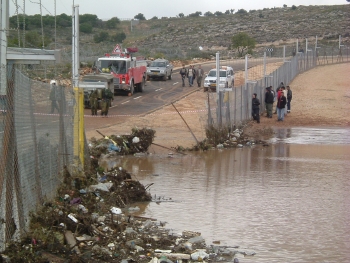 UPDATE: At 2.10pm, Eyad Tahar's dead body was found. See the latest press release at www.palsolidarity.org for more details.
FOR IMMEDIATE RELEASE
At 7 am this morning, in a flash flood caused by the annexation barrier near the village of Bil'in two brothers were washed away. A search party is currently attempting to find Eyad Tahar who is still missing, presumed dead. Raad Tahar was found unconscious and has been evacuated to hospital. The Israeli army is currently refusing to let the villager's search party use their equipment to try and drain the flooded area, which according to the villagers is so high that it is over the level of the olive trees. The army says that the area is part of the wall construction, so the villagers are not allowed to move it.
The earth-works of the illegal Barrier is currently acting as a dam that has flooded the road between the villages of Bil'in and Safa, west of Ramallah.
For more information call:
ISM Media Office: 022 971 824 or 057 572 0754