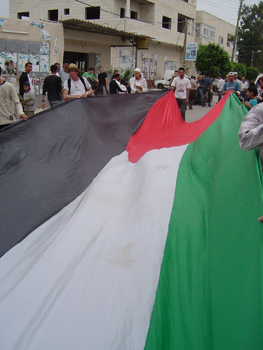 The huge Palestinian flag that has been used by the village on demonstrations
by an ISM Media office volunteer
Today's non-violent demonstration against the Wall in Bil'in was attacked by the Israeli soldiers, as usual. The demonstrators reached the gate in the annexation wall that is stealing some 60% of the village's land. The gate was blocked by several jeeps with Israeli border police standing on top and menacingly waving their clubs and pointing their M16 rifles at the demonstrators.
The crowd of Palestinians, Israelis and internationals chanted and sang against the wall and called on the soldiers to leave the village. Mohammed Khatib of the Bil'in Popular Committee Against the Wall and Settlements stood on the gate and was beaten by three soldiers at once, seriously bruising him on the arms. Several other Palestinians were also beaten, although there ended up being no arrests this week.
Eventually, the military dispersed the demonstration using sound grenades, which, in conjunction with the beatings, provoked a few stones from some of the shabab. The soldiers then shot rubber bullets and teargas at the crowd. A 14 year old boy was wounded and Many tear gas suffered from tear gas inhalation.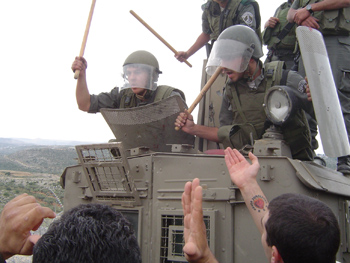 Israeli Border Police lash out
This exchange repeated itself few times. Each time most of the demonstrators moved out of the line of fire. Israelis and internationals tried to stay close to the soldiers at the sides, talking to them and shouting at them – trying to convince them to stop shooting at children. The presence of internationals and Israelis, along with large amounts of journalists and photographers means that they rarely use live ammunition, unlike in places such as Nablus. There, very few internationals and press are present, and they regularly use live rounds against unarmed protesters – often children.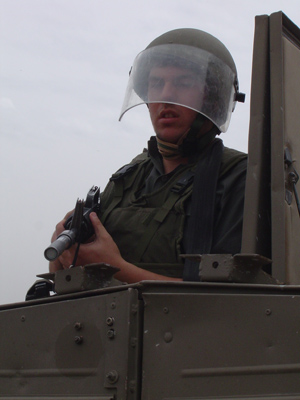 A soldier points his rifle at unarmed demonstrators. Rubber coated metal bullets are often lethal – a boy in Nablus shot in the head with one three days ago is in critical condition, and is not expected to escape brain-death.
The Popular Committee is expecting the Wall in Bil'in to be completed in July, so they now fear an escalation in the oppression of the army against the village – in terms of both arrests and general levels of violence used against the villagers. Abdullah Abu-Rahme, co-ordinator of the Popular Committee called for as many Israelis and internationals as possible to join them now – both on the weekly demonstrations and to stay overnight in the village and the outpost to act as an presence in case of army entering the village.