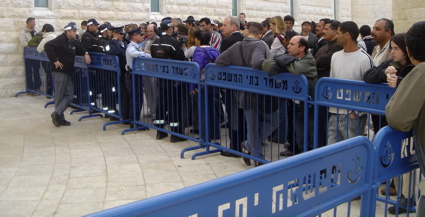 Palestinians of Bil'in, Israelis and Internationals waiting to enter the High Court of Justice, Feb 1st
High Court queries route of security fence near Bil'in
By DAN IZENBERG, Jerusalem Post
The High Court of Justice on Thursday issued a showcause order instructing the state to explain why it had chosen the specific route of the separation barrier near the Palestinian village of Bil'in and why the barrier should not be moved westward, closer to the nearby Jewish settlement of Modi'in Illit.
The court's decision followed a hearing the previous day on a petition filed by attorney Michael Sfard on behalf of Bil'in Town Council head Ahmed Yasin.
Sfard asked the court for a show-cause order that would oblige the state to provide a more detailed response to the petition, along with an affidavit from a senior state official supporting the state's argument.
The panel of three justices that heard Wednesday's hearing – Supreme Court President Aharon Barak and Justices Dorit Beinisch and Eliezer Rivlin – rejected Sfard's request for an interim injunction to prevent the Defense Ministry from completing construction of the threekilometer stretch of barrier near Bil'in, which is the subject of the petition.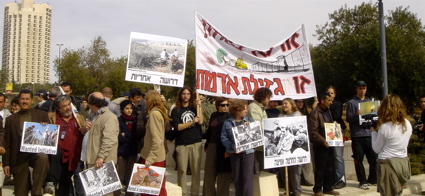 Palestinians of Bil'in, Israelis and Internationals demonstrating outside the High Court of Justice, Feb 1st
However, the justices reminded the state that it had promised not to close the current opening in the barrier with a planned gate, which is earmarked to be the controlled entry point for villagers seeking to work their lands on the "Israeli" side of the wall.
The court gave the state 21 days to present its detailed response to the petition. It also ruled that a number of respondents should be added to the petition, which was originally directed at the government and the West Bank military commander.
The respondents to be added include the Modi'in Illit Local Council and several construction and management companies currently building housing on land the petitioners argue should be on the Palestinian side of the barrier.
The companies include Green Park, Greenmount, Hefzibah, the Fund for Redeeming the Land, Planning and Development of Settlements and the Ein Ami Initiating and Development Company.
In the petition, Sfard charged that the route of the fence near Bil'in cut the village off from hundreds of dunams of its agricultural land.
Bil'in claims it owns more than 2,000 dunams of land on the "Israeli" side of the barrier, including approximately 900 dunams upon which the construction companies are building housing for the planned Jewish neighborhood of Matityahu East. Sfard said that by all accounts, 700-800 dunams of land belonging to Bil'in farmers, including some within the housing project, are located on the Israeli side of the barrier, and therefore the route should be changed to allow the farmers free access to their lands.
The Land of Bil'in