FOR IMMEDIATE RELEASE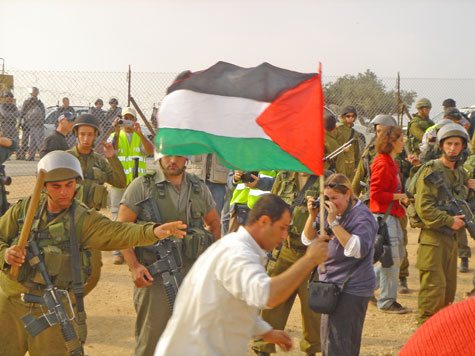 After the noon prayers on Friday, January 13th, Palestinian villagers in Bil'in, accompanied by Israeli and international activists, will march from the village to the "Centre for Joint Struggle," the legal Palestinian 'outpost.' The outpost is built adjacent to the illicit Jewish settlement outpost Matityahu Mizrah, currently being constructed on land belonging to Bil'in, and in flagrant violation of Israeli law. All settlements, however, are illegal under international law and convention.
The Palestinian 'outpost' is a symbol of protest against the annexation wall for the villagers of Bil'in. They are currently engaged in a court battle over its threatened demolition, which has had the effect of forcing the Israeli government to stop work on the nearby Jewish settlement outpost of Matityahu Mizrah.
The people of Bil'in are using the symbols and language employed by Israel for the theft of Palestinian land in a bid to hold onto village land that Israel is attempting to annex for the Wall and settlements. The Israeli government's efforts to remove the Palestinian outpost contrast starkly with Israeli government's support for the establishment of hundreds of illegal Israeli settlements and outposts throughout the West Bank. Approximately half of Bil'in's lands are being isolated from the village by the Wall. The village will lose at least 1,950 dunams if the Wall is not removed.
Last week IDF soldiers declared the area a closed military zone and denied the demonstrators access to reach the Palestinian 'settlement.' The Palestinians of Bil'in along with their international and Israeli supporters, will make yet another attempt to defy the brutality of the Israeli military and reach the Palestinian 'outpost' of 'Western Bil'in.'
For more information in Bil'in:
Mohammed Khatib 054 585 18 93
Abdullah 054 725 82 10