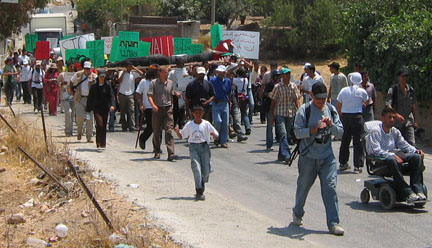 ISM photo: Israeli and internationals join Palestinians
in the West Bank village of Bil'in on June 22 in a
march to protest Israel's illegal barrier which cuts
through a gigantic swath of the village.
Residents of the West Bank village of Bil'in — along with Israelis and foreign peace activists — were chased by Israeli soldiers Friday afternoon during the protest against construction of the illegal barrier being built in the village. As the village was filled with tear gas from canisters shot into various points around the community, at least two israeli activists were kicked by soldiers as they lay on the ground.
Bil'in protesters, known for adding costumes during their demonstrations against the wall, wore masks Friday depicting the faces of U.S. President Bush and National Security Advisor Condoleeza Rice as they marched toward the wall route along with about 200 other people including several Israelis and other activists from abroad.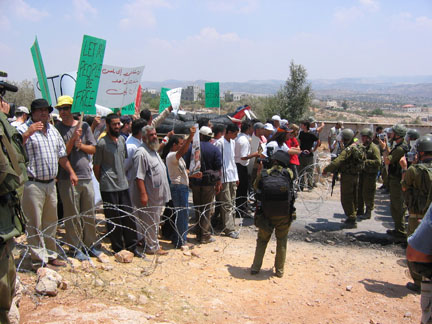 ISM photo: ISM and local Bil'in activists construct
masks of U.S. President Bush and National Security
Advisor Condoleeza Rice for a June 22 protest of the
illegal wall construction in Bil'in. Rice was currently
in the region, visiting Sharon at his ranch in the Negev
on Friday and in Ramallah on Saturday.
Before the action, as people in Bil'in donned white caps and T-shirts — reading in multiple languages, "We oppose the wall" — several Israelis traveling from Tel Aviv to join the protest were stopped by soldiers and detained en route. Another 20 Israelis managed to arrive in the village and participate.
Starting just after 1 p.m., men, women and children from the village donned masks of either Bush or Rice and covered their eyes with orange ribbons, the symbol used by supporters of the settlements in Gaza. Several carried a large sign reading "Gaza Disengagement = West Bank expansion." The orange blindfolds were meant to symbolize U.S. leader's being blinded from the addition to settlements in the West Bank by the removal of settlers in Gaza.


ISM photo: The march was halted earlier than usual.
Bil'in villagers protest the wall construction twice a week
even though it often ends in being beaten or arrested by
Israeli soldiers. On June 22, the soldiers set up a roadblock
far earlier than before. When the protesters refused to
disperse and remained in place, chanting slogans, soldiers
crossed their own barricade and attacked.
The protest ended with about 15 people being temporarily detained by soldiers. Six people were arrested in all. They were: Jawad Asi, a Palestinian from the village of Beit liqya; Noga Alui and Uri Ayalon, Israelis from Tel Aviv; Marcy Newman and Ted Auerbach of the United States; and Natalia Nueez of Sweden. Asi was kept apart from the others at a police station at the Givatze'ev settlement.
Reuters photo: Soldiers hold down and
detain Palestinian and international peace
activists during a protest of the wall
construction in Bil'in. the wall seizes land
from the village, cuts through farms, and
will cut the village off from surrounding areas.
The arrestees were charged with being in a "closed military area" and of assaulting soldiers. Video footage taken by activists led to the immediate drop of assault charges against all of those arrested. The Israelis and internationals were issued 15-day bans from entering Bil'in.
"It's ridiculous, because they only call it a 'closed military area' after we're already there. It's not declared one before that," Newman said. "The other irony is that we were accused of assaulting soldiers. We were the ones being assaulted."  While two Israelis were kicked, Nueez reported that one of the soldiers began spanking her once the tear gas had been fired and solders began running at the activists.
Reuters photo: Israeli troops detain Palestinian and international
demonstrators during a protest against Israel's illegal barrier at the
West Bank village of Bilin, Friday, July 22.
Meanwhile, as Palestinians, Israelis and internationals in villages across the occupied territories protested the wall, planned settlement expansion and the closure of much needed roads, Prime Minister Arial Sharon visited the West Bank settlement of Ariel — just after a chat with Condoleezza Rice at his ranch in the Negev Desert about the upcoming Gaza disengagement — making promises to "expand" and "strengthen" the settlement in the near future.
CAMERA CONFISCATION
At least one person in Bil'in on Friday reported soldiers had tried to take his camera while he recorded footage of Israeli activists being kicked. In Nablus, several cameras and film were seized. Being that no physical harm can come to a person by having a lens pointed at them, it's a logical assumption that the goal is to limit publicity about the harsh treatment soldiers inflict on Palestinian civilians and peace activists. Video footage proved Friday that the charges of assault lodged by soldiers were false. Video footage of a Wednesday protest in Bil'in also showed that it was soldiers who had attacked activists when they tried to accuse a group of internationals of assault. It's interesting that those who allegedly work to protect a democratic state are so eager to limit free speech by confiscating the tools of free speech.

Reuters photo: About 15 people were
detained and four arrested in Bil'in on
July 22. Six were arrested on charges of
being in a closed military area and
assaulting soldiers. Video footage cleared
all six activists form the charges. Soldiers
are getting more aggresive about trying to
confiscatate video and still photography
cameras.
NOTE: Natalia Nueez has a tilde over the first 'e' in her last name. It sometimes gets dropped, depending on the browser.